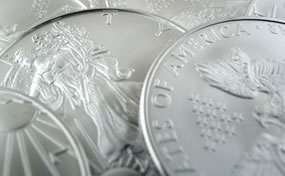 Gold and other precious metals advanced for a second straight session Tuesday. Gold was buoyed by inflation news out of China, analysts opined.
Gold for August delivery settled up $11, or 0.9%, to $1,245.90 an ounce on the Comex in New York. Gold prices gained $22.20 in the previous session. The precious metal traded between $1,232 and $1,258.70.
"Prices got a boost on news that China's inflation rate heated up a bit," Peter Hug, the global trading director of Kitco Metals Inc., said in a report noted on Bloomberg News. "We are seeing some continued physical demand from the Far East."
China's inflation rose 2.7% in June on an annual basis compared to the 2.1% inflation rate from the prior month.
Silver for September delivery added 10 cents, or 0.53%, to close at $19.14 an ounce, ranging from $18.93 to $19.49. Silver in starting the week rose 30.2 cents.
Gains in PGMs were a bit lighter than silver's.
October platinum climbed $6.60, or 0.48%, to $1,368.60 an ounce, trading between $1,354 and $1,381.10.

Palladium for September delivery edged up $1.95, or 0.28%, to $697.35 an ounce, ranging from $692 to $705.
London Fix Precious Metals
London precious metals fixings were split for a second day with silver again by itself with losses. In contrasting the Monday PM to Tuesday PM London Fix prices:
Gold gained $20.25, or 1.6%, to $1,255.50 an ounce,
Silver slipped 6 cents, or 0.3%, to $19.10 an ounce,
Platinum added $7, or 0.5%, to $1,362 an ounce, and
Palladium advanced $2, or 0.3%, to $699 an ounce
US Bullion Coin Sales in July
Sales totals advanced Tuesday for 7 of the 9 bullion coins currently available from the United States Mint. U.S. Mint distributors claimed a total of 5,500 ounces in gold coins and 838,000 ounces in silver coins.
In the notable column, year-to-date sales of bullion American Silver Eagles leapt above the 26 million mark to 26,691,500. Since the series kicked off in 1986, there has been only four years in which sales were higher and that is counting all 12 of their months. The annual Silver Eagle sales record happened in 2011 at 39,868,500. Back then, it took until August 15, 2011 for sales to top where they stand now.
The following are daily, July and year-to-date bullion coin totals as published by the U.S. Mint on its website.
American Eagle and Buffalo Bullion Coin Sales
Tuesday Sales
Last Week
Week-To-Date Sales
July Sales
YTD Sales
$50 American Eagle Gold Bullion Coins
1,500
15,000
1,500
16,500
561,000
$25 American Eagle Gold Bullion Coins
0
4,000
0
4,000
47,000
$10 American Eagle Gold Bullion Coins
2,000
2,000
2,000
4,000
90,000
$5 American Eagle Gold Bullion Coins
0
15,000
0
15,000
430,000
$50 American Buffalo Gold Bullion Coins
3,500
5,500
3,500
9,000
170,500
White Mountain 5 oz. Silver Bullion Coins
800
1,000
800
1,800
28,800
Perry's Victory 5 oz. Silver Bullion Coins
1,900
1,000
1,900
2,9000
17,100
Great Basin 5 oz. Silver Bullion Coins
500
4,300
500
4,800
14,700
American Silver Eagle Bullion Coins
822,000
826,000
822,000
1,648,000
26,691,500
Figures above are in the number of coins sold, not in ounces.