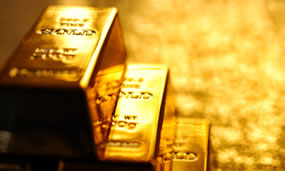 Gold, silver and other metals climbed Monday after plummeting in the previous session.
Gold for August delivery rebounded $22.20, or 1.8%, to finish at $1,234.90 an ounce on the Comex in New York. The yellow metal traded from an intraday low of $1,214.40 to a high of $1,237.40. Gold was supported Monday by a weaker dollar and bargain hunting.
"The physical trend has always been very seasonal," Bloomberg News quoted Bernard Sin, the head of currency and metal trading at MKS (Switzerland) SA, a bullion refiner in Geneva. "Physical players are a different breed. They are always buying on the dip. Physical support will continue to be present and it will definitely trigger interest."
Commodities tumbled Friday as the U.S. dollar surged to a near three-year high. Gold dropped $39.20, or 3.1%, and, as result, ended lower last week by 0.9%. Some analysts opine that gold's fall has been too far and too fast.
"Since inflation remains subdued at present, investors have ditched gold and bought off on the Goldilocks scenario that inflation will not run too hot or too cold, but be just right no matter how accommodative global central banks become," MarketWatch quoted Elliott Orsillo, co-founder and portfolio manager at Season Investments LLC. "This philosophy seems nearsighted to us, and we still think gold should play an important part of any investor's well diversified portfolio."
Silver for September delivery gained 30.2 cents, or 1.6%, to settle at $19.04 an ounce. Prices ranged from $18.670 to $19.265. Silver tumbled on Friday by 96.4 cents, or 4.9%, and ended down 3.8% last week.
Precious metals advances on Monday were led by PGMs, boosted by news of a renewed strike at Anglo American Platinum Ltd, a major producer in South Africa.
October platinum surged $35.60, or 2.7%, to $1,362 an ounce, trading between $1,322.90 and $1,364.40.

Palladium for September delivery jumped $17.85, or 2.6%, to $695.40 an ounce, ranging from $673.30 to $703.10.
PGMs were mixed last week as palladium soared 2.6% but platinum fell 1%.
London Fix Precious Metals
London precious metals fixing split Monday with all but silver gaining. In contrasting the Friday PM to Monday PM London Fix prices:
Gold added $22.50, or 1.9%, to $1,235.25 an ounce,
Silver dipped 16 cents, or 0.8%, to $19.16 an ounce,
Platinum rose $28, or 2.1%, to $1,355 an ounce, and
Palladium advanced $28, or 4.2%, to $697 an ounce
London precious metals gained last week by 1.7% for gold, 2.4% for silver, 0.8% for platinum and 4% for palladium.
US Bullion Coin Sales in July
Sales totals for U.S. Mint bullion products were unchanged Monday after strong gains in gold coins on Friday. The following are daily, July and year-to-date bullion coin totals as published by the U.S. Mint on its website.
American Eagle and Buffalo Bullion Coin Sales
Monday Sales
Last Week
Week-To-Date Sales
July Sales
YTD Sales
$50 American Eagle Gold Bullion Coins
0
15,000
0
15,000
559,500
$25 American Eagle Gold Bullion Coins
0
4,000
0
4,000
47,000
$10 American Eagle Gold Bullion Coins
0
2,000
0
2,000
88,000
$5 American Eagle Gold Bullion Coins
0
15,000
0
15,000
430,000
$50 American Buffalo Gold Bullion Coins
0
5,500
0
5,500
167,000
White Mountain 5 oz. Silver Bullion Coins
0
1,000
0
1,000
28,000
Perry's Victory 5 oz. Silver Bullion Coins
0
1,000
0
1,000
15,200
Great Basin 5 oz. Silver Bullion Coins
0
4,300
0
4,300
14,200
American Silver Eagle Bullion Coins
0
826,000
0
826,000
25,869,500
Figures above are in the number of coins sold, not in ounces.