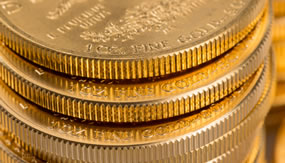 Gold and silver futures climbed Wednesday, halting a two-session slide. The precious metals gained support as the U.S. dollar and stocks weakened and on reports of strong physical demand.
Gold for June delivery advanced $12.40, or 0.9%, to settle at $1,391.30 an ounce on the Comex in New York. Gold traded from an intraday low of $1,379.10 to a high of $1,393.80. The precious metal lost $7.70, or 0.6%, on Tuesday.
"Gold remains generally consolidative, underpinned by a weaker dollar and a retreat in stocks today and continued evidence of strong physical interest in Asia," MarketWatch quoted Peter Grant, chief market analyst at USAGold.
Reported widely in the news today, the World Gold Council noted strong physical buying in India and China.
"Gold is surging toward $1,400 again, as the World Gold Council opined today about record demand from Asia offsetting ETF liquidations," Dave Lutz, the head of exchange-traded fund trading and strategy at Stifel Nicolaus & Co. in Baltimore, said in an e-mailed according to Bloomberg.
Silver for July delivery gained 26.0 cents, or 1.2%, to finish at $22.453 an ounce. Prices ranged from $22.13 to $22.47. In the previous session, silver fell 30.3 cents or 1.4%.
PGM's moved lower after snapping a two-day losing streak in the previous session. In their daily breakdowns:
July platinum shed $8.80, or 0.6%, to $1,453.00 an ounce, trading between $1,451.40 and $1,468.00. Platinum gained $9.90, or 0.7%, on Tuesday.

Palladium for September delivery, now the new most-active contract, declined $9.45, or 1.2%, to $750.10 an ounce. It ranged from $747.25 to $758.80. In the prior session, palladium for June delivery surged $30.55, or 4.2%.
London Fix Precious Metals
London precious metals fixings were unchanged to higher. In contrasting the Tuesday PM to Wednesday PM London Fix prices:
Gold added $6.00, or 0.4%, to $1,382.50 an ounce,
Silver was unchanged at $22.36 an ounce,
Platinum gained $5.00, or 0.3%, to $1,455.00 an ounce, and
Palladium jumped $14.00, or 1.9%, to $747.00 an ounce
US Bullion Coin Sales in May
Sales jumped for U.S. Mint bullion coins, supported by the return of $5 Gold Eagles with dealers ordering 50,000. Across the bullion spectrum, U.S. Mint sales for gold coins climbed 7,500 ounces and silver coins surged 846,000 ounces.
In the notable column, American Silver Eagles leapt over 3.4 million for the month and 21.7 million for the year. For the latter, that has never happened so soon. In 2011 when annual Silver Eagle sales hit a record of nearly 40 million, it took until June 27 to surpass the level. Last year, the bullion coins did not top the mark until August 24.
The following are daily, May and year-to-date bullion coin totals as published by the United States Mint.
American Eagle and Buffalo Bullion Coin Sales
Wednesday Sales
Last Week
Week-To-Date
May Sales
YTD Sales
$50 American Eagle Gold Bullion Coins
2,000
7,000
4,000
54,000
488,000
$25 American Eagle Gold Bullion Coins
0
0
0
2,000
42,000
$10 American Eagle Gold Bullion Coins
2,000
0
2,000
6,000
78,000
$5 American Eagle Gold Bullion Coins
50,000
0
50,000
50,000
350,000
$50 American Buffalo Gold Bullion Coins
0
2,000
1,500
12,500
144,500
White Mountain 5 oz. Silver Bullion Coins
2,500
10,600
2,500
25,800
25,800
American Eagle Silver Coins
833,500
866,500
858,500
3,458,500
21,768,500
Figures above are in the number of coins sold, not in ounces.