The Royal Canadian Mint has released a nifty product that's perfect for Father's Day, a silver coin depicting a father and child fishing with their dog.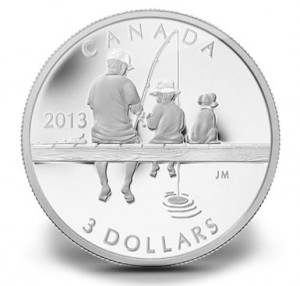 Featuring four different finishes that enhance the simple yet touching scene, the Fishing silver coin is available for $34.95.
Designed by Canadian artist John Mantha, the silver coin's reverse shows a father and child fishing from a dock with their dog happily to their side. The father, garbed in cap, t-shirt and shorts, appears handing his child a readied fishing rod. The two have their bare feet dangling just above water that's rippling around the line. The family dog sits beside the two with ears perked, looking out across the water. Inscriptions surrounding the image include "CANADA," the date "2013," the coin's legal tender face value of "3 DOLLARS" and "JM" for the designer's initials.
The obverse side of the Fishing silver coin features a portrait of Queen Elizabeth II by Susanna Blunt. Inscriptions read "ELIZABETH II" and "D.G. REGINA."
This coin is rendered in fine silver that is 99.99% pure. It weighs 7.96g, has a 27mm diameter and a serrated edge.
Orders for the 2013 $3 Fishing silver coin can be placed from the Royal Canadian Mint's website at www.mint.ca. Phone orders are accepted at 1-800-267-1871 (Canada) or 1-800-268-6468 (US). The coin has a mintage limit of 15,000.
Coins come in a maroon clamshell case lined with flock and protected by a black Royal Canadian Mint box.