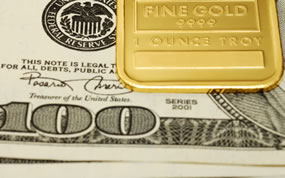 Gold, silver and platinum declined this week, snapping a string of two weekly increases. A solidly stronger U.S. dollar crimped demand for commodities.
Gold for June delivery lost $32.00, or 2.2%, to settle at $1,436.60 an ounce on the Comex in New York. The decline absorbed earlier gains, placing gold into the red this week by $27.60, or 1.9%.
"It's all about the dollar strength. That's where all the fast money is going," Reuters quoted Miguel Perez-Santalla, vice president of BullionVault, an online physical gold and silver market. "I think this is another opportunity for physical buyers."
Last week's gold surveys correctly, as it turned out, leaned bearish for prices this week. The latest surveys show mixed expectations for gold prices over the next several days.
"In the Kitco News Gold Survey, out of 36 participants, 25 responded this week. Of those 25 participants, eight see prices up, while 11 see prices down and six see prices moving sideways or are neutral," Kitco News reports.

"Those who see weaker prices cited several factors including a stronger dollar, weaker technical charts and stronger equity markets… The participants who see higher prices said they expect gold to find buying interest at these lower levels and rebound slightly."
Bloomberg's survey has 12 participants projecting higher gold prices next week, 10 expecting losses and 5 neutral.
In percentage, gold immediately follows silver as the worst performing precious metal this year. The yellow metal is down $239.20, or 14.3%.
Silver, Platinum and Palladium Futures
Falling in four of the last five sessions, silver for July delivery fell 25.3 cents, or 1.1%, to close at $23.658 an ounce. Silver ended 35.6 cents, or 1.5%, lower than a week ago.
PGM futures fell Friday for the first time in three sessions.
July platinum declined $30.50, or 2.0%, to $1,486.00 an ounce. It slipped $15.20, or 1.0%, for the week.

Palladium for June delivery shed $9.05, or 1.3%, to $705.70 an ounce. Palladium was the outlier in precious metals, notching a weekly gain of $12.40, or 1.8%.
For the year-to-date, losses tally to 21.7% for silver and 3.7% for platinum. Palladium has inched higher by 0.3%.
London Fix Precious Metals
London precious metals fixings moved in the same direction Friday as they did for the week. When comparing the Thursday PM to Friday PM London Fix prices:
Gold fell $39.00, or 2.7%, to $1,426.50 an ounce,
Silver declined 70.0 cents, or 2.9%, to $23.37 an ounce,
Platinum lost $16.00, or 1.1%, to $1,490.00 an ounce, and
Palladium gained $7.00, or 1.0%, to $702.00 an ounce
Weekly losses for the three precious metals were 2.9% for gold, 3.6% for silver and 0.7% for platinum. Palladium rose 1.2% this week.
US Bullion Coin Sales in May
Compared to last week, buying activity slumped significantly for U.S. Mint bullion gold coins but improved for silver bullion coins. In the latest weekly sales breakdowns:
Gold bullion coins totaled 6,000 ounces, down from the prior week's 13,500 ounces. Splits were 5,000 ounces in 22-karat American Gold Eagles and 1,000 ounces in 24-karat American Gold Buffalos.

American Silver Eagles reached 900,000 versus the 855,000 advance logged last week. The year-to-date Silver Eagle sales total surpassed 19 million this week, the earliest in a year that has ever happened. In 2011 when annual sales hit a record of 39,868,500 coins, it took until June 7 to top 19 million. Last year, Silver Eagles did not score 19 million in sales until July 25.
In May so far, American Eagle bullion coins have slowed from their soaring sales pace in April when Gold Eagles logged their best month since December 2009 and Silver Eagles registered their sixth highest monthly sales total. The two bullion coins have been issued annually since 1986.
On Monday, the U.S. Mint will release the first 2013 America the Beautiful Five Ounce Silver Bullion Coin. The coin depicting White Mountain National Forest will be available to U.S. Mint dealers in an allocated basis.
The following are daily, May and year-to-date bullion coin totals as published by the United States Mint.
American Eagle and Buffalo Bullion Coin Sales
Friday Sales
Last Week
Weekly Sales
May Sales
YTD Sales
$50 American Eagle Gold Bullion Coins
0
11,000
5,000
15,000
449,000
$25 American Eagle Gold Bullion Coins
0
0
0
0
40,000
$10 American Eagle Gold Bullion Coins
0
0
0
0
72,000
$5 American Eagle Gold Bullion Coins*
0
0
0
0
300,000
$50 American Buffalo Gold Bullion Coins
0
2,500
1,000
2,500
134,500
American Eagle Silver Bullion Coins
0
855,000
900,000
900,000
19,210,000
*The U.S. Mint has temporarily suspended sales of its smallest American Gold Eagle until inventories are replenished. The Mint ran out of them on April 22.