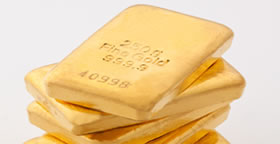 Gold, silver and other precious metals advanced for a second week in a row, though gold retreated on Friday.
Gold for June delivery shed $3.40, or 0.2%, to settle at $1,464.20 an ounce on the Comex in New York.
Gold's settlement price was $10.60, or 0.7%, higher than a week ago. The yellow metal soared $58.00, or 4.2%, last week. Expectations for extending those gains into next week appear gloomier, based on two weekly gold surveys that either lean or heavily tilt bearish.
In the Kitco News Gold Survey, out of 35 participants, 27 responded this week. Of those 27 participants, 10 see prices up, while 12 see prices down and five see prices moving sideways or are neutral," reports Kitco.

"Those who see weaker prices next week cited a few reasons, some of them based on technical-chart factors, others on fundamentals… Others said the better-than-expected U.S. non-farm payrolls data was bearish for gold… Those who see higher prices said they expect prices to creep up next week, but aren't expecting any sizable gains…"
Bloomberg's survey shows that traders are the most bearish in three years. Twenty participants expect gold to drop next week, nine were bullish and four were neutral. Bloomberg noted it was the biggest proportion of bears since February 2010.
For the year-to-date, gold prices have fallen by $211.60 or 12.6%.
Silver, Platinum and Palladium Futures
Unlike gold, silver and platinum traded higher Friday. Palladium was unchanged. In their futures prices:
Silver for July delivery gained 18.4 cents, or 0.8%, to $24.014 an ounce.

July platinum edged up $1.00, or less than 0.1%, to close at $1,501.20 an ounce.

Palladium for June delivery settled flat at $693.30 an ounce.
For the week, advances were 1.0% for silver and 1.7% for both platinum and palladium. Silver continues its dominance as the worst performing precious metal for 2013, down 20.6%. Platinum has declined 2.7% this year while palladium is off 1.4%.
London Fix Precious Metals
London fixed precious metals moved mostly higher Friday and for the week. When comparing the Thursday PM to Friday PM London fixings:
Gold was flat at $1,469.25 an ounce,
Silver added 56.0 cents, or 2.4%, to $24.25 an ounce,
Platinum advanced $14.00, or 0.9%, to $1,501.00 an ounce, and
Palladium rose $6.00, or 0.9%, at $694.00 an ounce
Weekly increases among metals included 1.0% for silver, 1.2% for platinum and 1.9% for palladium. Gold dipped 0.2%.
US Bullion Coin Sales in May
Sales levels over the last several days have been mixed for U.S. Mint bullion coins. In the weekly sales breakdowns:
Gold bullion coins reached 13,500 ounces, which is sharply lower than last week's total of 55,500 ounces. Splits were 11,000 ounces in 22-karat American Gold Eagles and 2,500 ounces in 24-karat American Gold Buffalos.

American Silver Eagles totaled 855,000 for a modest improvement over the 845,000 advance notched last week.
The following are daily, May and year-to-date bullion coin totals as published by the U.S. Mint.
American Eagle and Buffalo Bullion Coin Sales
Friday Sales
Last Week
Weekly Sales
May Sales
YTD Sales
$50 American Eagle Gold Bullion Coins
0
38,000
11,000
10,000
444,000
$25 American Eagle Gold Bullion Coins
0
3,000
0
0
40,000
$10 American Eagle Gold Bullion Coins
0
4,000
0
0
72,000
$5 American Eagle Gold Bullion Coins*
0
5,000
0
0
300,000
$50 American Buffalo Gold Bullion Coins
0
14,500
2,500
1,500
133,500
American Eagle Silver Bullion Coins
0
845,000
855,000
0
18,310,000
*The U.S. Mint has temporarily suspended sales of its smallest American Gold Eagle until inventories are replenished. The Mint ran out of them on April 22.