On Tuesday, April 30, 2013, the United States Mint released two sets created for special gift-giving occasions.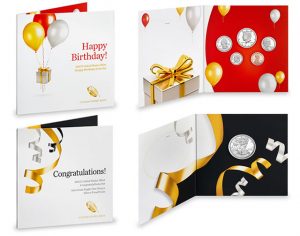 Newly introduced is the 2013 Happy Birthday Coin Set for $19.95 and the 2013 Congratulations Set for $64.95.
"The United States Mint is proud to introduce two new special sets just in time for the spring gift-giving season," an email promotion from the Mint said in part.
The two offerings extend a product line that began last year when the 2012 Birth Set was introduced as a gift-giving product to mark the arrival of newborns. It has enjoyed success with current sales of 43,997. This year's Birth Set debuted on February 19 and has sales of 14,175.
Coins from these sets are encapsulated for protection, and held inside of specially designed folders that highlight the occasion. The folders open to reveal the coins and also have an area for a personal message. A United States Mint Certificate of Authenticity is printed on the back of each folder. There is also a sleeve that holds the folder. Found on the back of it are specifications for the coins inside and the official seal of the Department of the Treasury.
Congratulations Set for $64.95
Promoted as a gift ideal for weddings, anniversaries, retirements, graduations and milestone birthdays, the 2013 Congratulations Set has the popular proof American Eagle silver coin that is produced at the West Point Mint and carries the "W" mint mark.
This is the same proof coin that debuted separately from the U.S. Mint on January 24, 2013 for $62.95, which is $2 less than the Congratulations Set. The standalone proof Silver Eagle cannot be purchased from the U.S. Mint as of this writing because sales were suspended for re-pricing back on April 15.
Happy Birthday Coin Set for $19.95
The 2013 Happy Birthday Coin Set has five coins in total, all in proof quality from the San Francisco Mint and with the "S" mint mark. The proof coins include the Lincoln cent, Jefferson nickel, Roosevelt dime, Mount Rushmore National Memorial quarter and Kennedy half-dollar. The quarter is the last of the five 2013 America the Beautiful Quarters. The previously mentioned Birth Set for this year has the same denominated proof coins as the Happy Birthday Set, except that the quarter in it features White Mountain National Forest. It is the first of the 2013 America the Beautiful Quarters.
Where to Buy
These sets are found online through the U.S. Mint catalog page for Gift Ideas, located here. Orders may also be placed at 1-800-USA-MINT (872-6468). There are no per household order limits or product limits.