Last week the United States Mint began selling Professor Muhammad Yunus Bronze Medals in two sizes. The three inch strike is $39.95, and the one and a half inches offering is $6.95.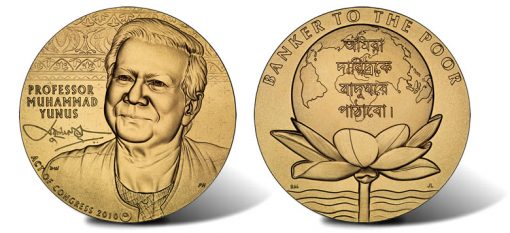 These bronze medals are duplicates of the Congressional Gold Medal awarded to Professor Muhammad Yunus on April 17, 2013.
During a ceremony held in the U.S. Capitol Rotunda, Dr. Muhammad Yunus was recognized for his fight against global poverty. Through his visionary financial accomplishments, the Grameen Foundation and the Grameen Bank in Bangladesh, 9.4 million people who traditionally would not qualify for credit received microloans.
The medals were authorized by Public Law 111- 253 in 2010, four years after Professor Yunus won the Nobel Peace Prize. On the obverse of the bronze medal replica is a portrait of Professor Yunus with a backdrop of traditional Bengali jamdani fabric design. To one side of his image is the inscription, "PROFESSOR MUHAMMAD YUNUS," and below it is "ACT OF CONGRESS 2010." The design was created by U.S. Mint AIP Master Designer Donna Weaver and sculpted by U.S. Mint Sculptor-Engraver Phebe Hemphill.
To symbolize Professor Yunus' dream to end world poverty, a symbolic image of a lotus open in full bloom rises above the water and cradles the world in its petals on the reverse of the medal. Inscription, "BANKER TO THE POOR," tops the design with an inscription on the globe with the Bengali translation for "Let us send poverty to the museum." U.S. Mint AIP Master Designer Richard Masters designed the artwork, and U.S. Mint Sculptor-Engraver Jim Licaretz sculpted it.
"Born and educated in what is today Bangladesh, Dr. Yunus discovered that impoverished people could not get ahead because of the predatory lending practices of money-lenders," said Representative Rush Holt.

"Starting with just $27 of his own money, Dr. Yunus showed that, contrary to the old, cynical saying than bankers 'loan money only to people who don't need it,' it could be profitable to loan money to poor people who had not shown marketable skills or facility in handling money. In the face of skepticism and opposition, he built a microcredit banking business that thrived, lifted millions of people out of poverty, and provided a model for similar work around the world."
Orders for the Professor Muhammad Yunus Bronze Medal are accepted at the U.S. Mint at 1-800-USA-MINT (872-6468) or online via the Mint's product page for medals.