Members of the U.S. Congress honored a group of elite fighter pilots this week by awarding them the Congressional Gold Medal.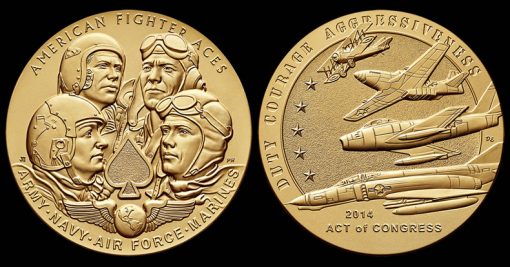 During a ceremony held in Emancipation Hall at the U.S. Capitol Visitor Center on Wednesday, May 20, 2015, Congress' highest civilian award was presented collectively to American Fighter Aces in recognition of their heroic service to the United States throughout the history of aviation warfare.
"We are the land of the free because of our fighter aces," said Rep. Sam Johnson, R-Texas, sponsor of the legislation which authorized the gold medals. "I cannot think of a more appropriate way to honor their heroism than with the Congressional Gold Medal."
Approximately 1,500 U.S. fighter pilots have the distinction of being called an American Fighter Ace, owing to their distinguished service in a war or conflict in which American armed forces have participated. To qualify, they must have shot down at least five enemy aircraft in aerial combat.
As for the medal itself, two designs won out among 14 candidates. Shown on the obverse (heads side) of the medal are four pilots representing service in World War I, World War II, the Korean War, and the Vietnam War.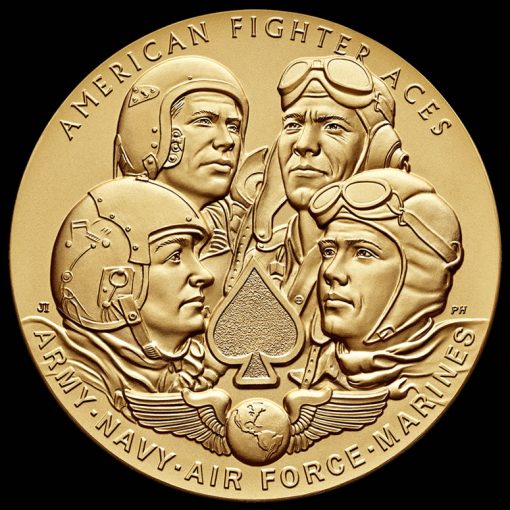 Adding to the scene are an ace of spades and military wings with a centered globe meant to symbolize the international impact of their service. Inscriptions include AMERICAN FIGHTER ACES, ARMY, NAVY, AIR FORCE, and MARINES. This artwork was created by Joel Iskowitz and sculpted by Phebe Hemphill.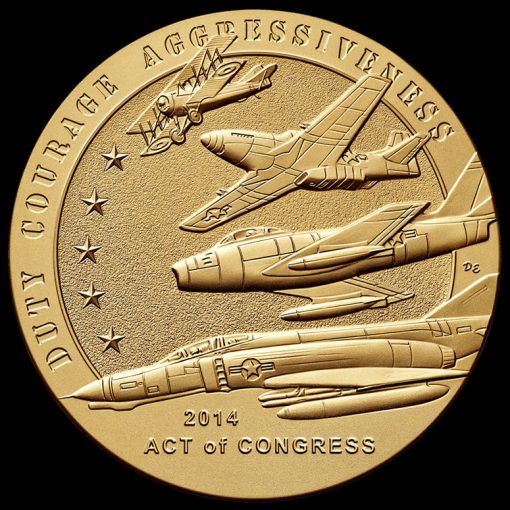 Designed and sculpted by Don Everhart, the reverse (tails side) depicts four aircraft used by American Fighter Aces. Five stars can be seen to the left indicative of the minimum five enemy aircraft that each American Fighter Ace defeated. Inscriptions of DUTY COURAGE AGGRESSIVENESS, 2014, and ACT OF CONGRESS complete the design.
The American Fighter Aces Congressional Gold Medal Act, Public Law 113-105, passed both houses of Congress in May of 2014. It was signed into law by President Obama a few days later on May 23, 2014.
Bronze reproductions of the medal are available from the United States Mint. 3-inch medals are $39.95 and 1.5-inch medals are $6.95. To purchase either, visit the U.S. Mint's online catalog at http://catalog.usmint.gov/ or call 1-800-USA-MINT (872-6468). Hearing- and speech-impaired customers with TTY equipment may call 1-888-321-MINT (6468).