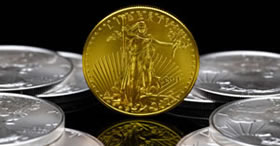 Gold fell modestly Wednesday as the U.S. dollar garnered the safe-haven appeal.
Though gold futures have plummeted $182.20, or 11.6%, since Thursday, U.S. Mint gold bullion coins are screaming. They just scored a 2013 daily sales record.
As for bullion futures, gold for June delivery shed $4.70, or 0.3%, to close at $1,382.70 an ounce on the Comex in New York. The yellow metal traded between $1,365.00 and $1,395.20.
"We are seeing a lot of retail buying and not a lot of commercial and certainly not fund buying in this particular rally back," Reuters quoted Frank McGhee, head precious metals trader of Integrated Brokerage Services LLC.

"Investors are still very wary about economic slowdown and deflation," he added.
On Friday, gold dived $63.50, or 4.1%. On Monday, the metal plummeted $140.30, or 9.3%, for its biggest one-day loss since 1980 and its lowest settlement price since February 2011. Gold bounced back $26.30, or 1.9%, on Tuesday.
"People are buying gold after the earnings disappointed and stocks declined," Adam Klopfenstein, a senior market strategist at Archer Financial Services Inc. in Chicago, said in a telephone interview according to Bloomberg.

"A price drop of this kind has also brought in some physical demand."
Silver's fall has been swift. Silver for May delivery declined 32.1 cents, or 1.4%, to settle at $23.307 an ounce. The closing price was lowest since October 2010. Prices ranged from $22.835 to $23.725.
"Silver prices are in a six-month-old downtrend on the daily bar chart. Bulls' next upside price breakout objective is closing prices above solid technical resistance at $25.00 an ounce," notes Jim Wyckoff in the PM Kitco Metals Roundup.

"The next downside price breakout objective for the bears is closing prices below solid technical support at this week's low of $22.00. First resistance is seen at Wednesday's high of $23.725 and then at $24.00. Next support is seen at Wednesday's low of $22.835 and then at Monday's low of $22.515."
Silver has dropped in three of the last four session, plunging $4.39, or 15.9%, since Thursday.
In other New York precious metals futures Wednesday:
July platinum lost $15.20, or 1.1%, to $1,435.40 an ounce, trading between $1,422.50 and $1,452.80.

Palladium for June delivery declined $16.80, or 2.5%, to $661.40 an ounce, ranging from $658.25 to $683.35.
London Fix
Precious metals in London split with gold higher and the others lower. When comparing the Tuesday PM to Wednesday PM London Fix prices:
Gold gained $12.00, or 0.9%, to $1,392.00 an ounce,
Silver declined 16.0 cents, or 0.7%, to $23.31 an ounce,
Platinum fell $10.00, or 0.7%, to $1,436.00 an ounce, and
Palladium declined $10.00, or 1.5%, to $671.00 an ounce
US Bullion Coin Sales in April
U.S. Mint sales of 22-karat American Eagle gold bullion coins jumped 63,500 ounces for the highest one-day total of 2013. The previous daily record stood at 50,000 ounces. That happened on Jan. 2 when the new 2013-dated issues debuted. With a little more than half of the month gone, April sales are at 147,000 ounces. That is only 3,000 away from matching January sales, which were the highest for a month since July 2010.
24-karat American Buffalo gold bullion coins advanced 8,500, lifting the month-to-date total to 18,000. Several thousand fewer were sold in March and in February, but the pace would have to pick-up to surpass January's total of 72,500 — the highest monthly total since October 2009.
Rounding out bullion coins, America Silver Eagles rose 172,000. While handily on pace for a new annual sales records, daily sales levels have been considerably slower this month than in January when the all-time monthly record was set at 7,498,000. At 2.387 million for April, the coins are poised to surpass sales from March (3.3565 million) and from February (3.3685 million).
In related coin news about the U.S. Mint, the bureau on Wednesday reduced prices on its numismatic platinum and gold coins.
U.S. Mint bullion sales by day, for April and the year-to-date follow.
American Eagle and Buffalo Bullion Coin Sales
Wednesday Sales
Last Week
Week-To-Date Sales
April Sales
YTD Sales
$50 American Eagle Gold Bullion Coins
58,500
25,500
88,500
133,000
379,500
$25 American Eagle Gold Bullion Coins
3,000
3,000
5,000
9,000
35,000
$10 American Eagle Gold Bullion Coins
6,000
2,000
10,000
14,000
60,000
$5 American Eagle Gold Bullion Coins
20,000
10,000
30,000
60,000
275,000
$50 American Buffalo Gold Bullion Coins
8,500
5,000
11,000
18,000
113,000
American Eagle Bullion Silver Coins
172,000
900,000
675,000
2,387,000
16,610,000
All bullion figures above are in the number of coins sold. Calculate total ounces by using the bullion coin's weight. 2011-2012 America the Beautiful Five Ounce Silver Bullion Coins sold out on March 1. The U.S. Mint is not yet selling any of this year's five ounce coins.