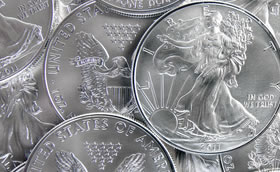 Gold, silver and other precious metals rebounded Tuesday as buyers stepped in at comparative bargain levels following steep declines in the previous session.
Gold for June delivery settled up $26.30, or 1.9%, to $1,387.40 an ounce on the Comex in New York. Prices traded from an intraday low of $1,321.50 to a high of $1,404.20.
Emotions were less frayed Tuesday as gold rebounded well off its overnight two-plus-year low. However, there remains a bit keener anxiety in the market place, with much for traders and investor to ponder as the week plays out," notes Jim Wyckoff in the PM Kitco Metals Roundup.

"This week's price action in many markets, including gold and silver, will likely be extra important for price direction in the coming weeks," he added.
On Monday, gold plummeted $140.30, or 9.3%, for its biggest one-day loss since 1980 and its lowest closing price since February 2011.
"People may be starting to get a little nervous about whether gold is continuing its run over the last decade or so, where it's always increased in price on an annual basis," Bloomberg quoted Alexandra Knight, a Melbourne-based economist at National Australia Bank Ltd. "They may be getting to the stage where they realize it's not an ever-increasing asset."
Silver for May delivery came back 26.7 cents, or 1.1%, to close at $23.628 an ounce. Prices ranged from $22.00 to $23.975. The white metal plunged $2.97, or 11.3%, in the previous session to settle at its lowest level since October 2010.
On Monday, platinum fell 4.8% and palladium declined 5.9%. Both precious metals recovered a portion of those losses on Tuesday. In the daily breakdowns for PGMs:
July platinum gained $25.80, or 1.8%, to $1,450.60 an ounce, trading between $1,374.60 and $1,464.80.

Palladium for June delivery added $11.20, or 1.7%, to $678.20 an ounce, ranging from $668.50 to $689.90.
London Fix
Precious metals in London were mixed. When comparing the Monday PM to Tuesday PM London Fix prices:
Gold fell $15.00, or 1.1%, to $1,380.00 an ounce,
Silver shed 7.0 cents, or 0.3%, to $23.47 an ounce,
Platinum dipped $2.00, or 0.1%, to $1,446.00 an ounce, and
Palladium gained $5.00, or 0.7%, to $681.00 an ounce
US Bullion Coin Sales in April
Sales of U.S. Mint gold bullion coins were muted Monday but soared on Tuesday. American Gold Eagles surged 33,000 ounces, the highest one-day total since the 2013-dated versions launched on Jan. 2. Sales with half of April over stand at 83,500 ounces, surpassing the monthly totals from March and February. The U.S. Mint also sold 2,500 ounces of American Golf Buffalo coins. Combining the Eagles and Buffaloes, 35,500 ounces of gold coins moved Tuesday. If the week ended today, it would already rank highest for gold coin sales since the one ending Jan. 11.
America Silver Eagles advanced 503,000 Tuesday, bringing the year-to-date total to 16,438,000. Last year Silver Eagle sales did not top the 16 million mark until June 19. Year 2011 holds the annual sales record for the bullion coins at 39.8+ million. That year it took until May 9 for Silver Eagles to surpass 16 million.
U.S. Mint bullion sales by day, for April and the year-to-date follow.
American Eagle and Buffalo Bullion Coin Sales
Tuesday Sales
Last Week
Week-To-Date Sales
April Sales
YTD Sales
$50 American Eagle Gold Bullion Coins
30,000
25,500
30,000
74,500
321,000
$25 American Eagle Gold Bullion Coins
2,000
3,000
2,000
6,000
32,000
$10 American Eagle Gold Bullion Coins
4,000
2,000
4,000
8,000
54,000
$5 American Eagle Gold Bullion Coins
10,000
10,000
10,000
40,000
255,000
$50 American Buffalo Gold Bullion Coins
2,500
5,000
2,500
9,500
104,500
American Eagle Bullion Silver Coins
503,000
900,000
503,000
2,215,000
16,438,000
All bullion figures above are in the number of coins sold. Calculate total ounces by using the bullion coin's weight. 2011-2012 America the Beautiful Five Ounce Silver Bullion Coins sold out on March 1. The U.S. Mint is not yet selling any of this year's five ounce coins.