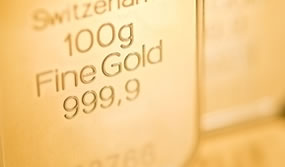 Gold tumbled Wednesday as bearish-leaning news broke about the Fed's latest FOMC minutes, Goldman Sachs cutting its price forecasts and Cyprus selling some of its gold reserves.
Gold for June delivery declined $27.90, or 1.8%, to settle at $1,558.80 an ounce on the Comex in New York. The loss was the biggest for a day since the yellow metal plunged $40.30 on Nov. 2. Gold prices traded from an intraday low of $1,556.40 to a high of $1,588.50.
On Wednesday, Cyprus officials announced plans to sell gold worth more than $500 million from its reserves to contribute toward its bailout. Also, newly released Fed minutes from its March 19-20 policy meeting show more members wanting to slow and eventually end QE3 before the end of the year.
"I think gold was responding to a little bit of both (news items)," Reuters quoted metals trader David Lee at Heraeus Precious Metals Management in New York.

"The other day we went up on short covering. People saw the failure to break above $1,600, so the shorts are dipping their toes back in again and re-establishing their positions based on that news," he said.
In other bearish news, Goldman Sachs dropped its three-month gold forecast to $1,530 from $1,610, its 6-month target to $1,490 from $1,600 and its 12-month forecast to $1,390 from $1,550. At the end of 2013, Goldman targets gold at $1,450 compared to its previous forecast of $1,600 an ounce.
"We see risks to current prices as skewed to the downside as we move through 2013," Goldman analysts Damien Courvalin and Jeffrey Currie told clients, according to The Wall Street Journal. "In fact, should our expectation for lower gold prices continue to prove correct, the fall in prices could end up being faster and larger than our forecast."

"While we may be end up too early in entering this trade, we prefer that to being late given our belief that the skew to current prices is to the downside," they added.
Gold's latest settlement price is the lowest since Thursday. On Tuesday, gold advanced $14.20, or 0.9%.
In other New York precious metals futures:
Silver for May delivery fell 22.8 cents, or 0.8%, to $27.653 an ounce, trading between $27.445 and $27.965. Silver on Tuesday jumped 74.3 cents, or 2.7%.

July platinum declined $23.30, or 1.5%, to $1,529.80 an ounce, ranging from $1,525.00 to $1,550.60.

Palladium for June delivery lost $12.15, or 1.7%, to $720.85 an ounce, trading between $704.00 and $728.20.
Bullion Prices in London
Precious metals in London were mixed. In contrasting the Tuesday PM to Wednesday PM London fixings:
Gold shed $2.25, or 0.1%, to $1,575.00 an ounce,
Silver added 49.0 cents, or 1.8%, to $27.74 an ounce,
Platinum declined $9.00, or 0.6%, to $1,533.00 an ounce, and
Palladium dived $19.00, or 2.6%, to $713.00 an ounce
US Bullion Coin Sales in April
Sales of U.S. Mint bullion coins were unchanged Wednesday. The table below offers daily, April and year-to-date bullion coin sales totals as reported by the United States Mint.
American Eagle and Buffalo Bullion Coin Sales
Wednesday Sales
Last Week
Week-To-Date Sales
April Sales
YTD Sales
$50 American Eagle Gold Bullion Coins
0
19,000
19,000
38,000
284,500
$25 American Eagle Gold Bullion Coins
0
1,000
3,000
4,000
30,000
$10 American Eagle Gold Bullion Coins
0
2,000
2,000
4,000
50,000
$5 American Eagle Gold Bullion Coins
0
20,000
5,000
25,000
240,000
$50 American Buffalo Gold Bullion Coins
0
2,000
2,000
4,000
99,000
American Eagle Bullion Silver Coins
0
812,000
894,500
1,706,500
15,929,500
All bullion figures above are in the number of coins sold. Calculate total ounces by using the bullion coin's weight.
2011-2012 America the Beautiful Five Ounce Bullion Silver Coins sold out on March 1. The U.S. Mint has not released any of this year's coins.