The Perth Mint has released its newest annual half gram 2013 Australian Mini Roo Gold Coin.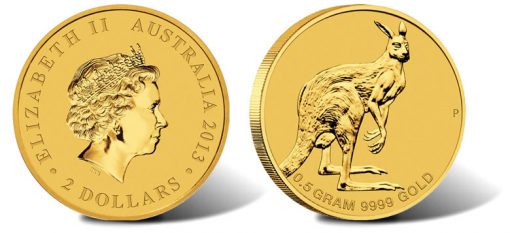 Each 2013 Australian Mini Roo is struck from 0.5 grams of 99.99% pure gold to a diameter of 11.60 mm and a thickness of 0.70 mm. Featured on the reverse is the likeness of a kangaroo.
"The delicate, button-sized 2013 Mini Roo release presents a golden opportunity for anyone to own an iconic Australian coin," offers a description provided by the Perth Mint. "This coin is a precious collectable or gift that will stand the test of time."
Mini Roo Gold Coins debuted in 2010. New strikes have appeared annually ever since, each featuring a unique reverse showcasing Australia's iconic marsupial — the kangaroo.
This year's reverse, designed by Perth Mint artist Wade Robinson, depicts a single kangaroo poised in a classic stance. Below are inscriptions 0.5 GRAM 9999 GOLD.
Obverses feature the Ian Rank-Broadley portrait of Queen Elizabeth II. Surrounding inscriptions include ELIZABETH II, AUSTRALIA, 2013 and 2 DOLLARS.
Each of these gold coins is struck as legal tender of Australia. The legal tender status is guaranteed by the Australian government under the Australian Currency Act of 1965.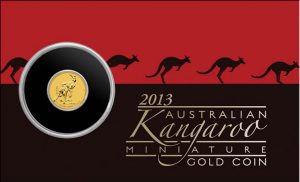 Coins are placed in a protective acrylic capsule to preserve the finish. Also included is a colorful wallet-sized card that has the specifications of the release.
The 2013 Australian Mini Roo 0.5g Gold Coin may be ordered directly from the Perth Mint at www.perthmint.com.au. Pricing is AUS $54.09 (US $56.54), but is subject to change based on market conditions. The coin's mintage is stated as mint-to-order.