The United States Mint rolled out another series of website improvements this week. The newest changes overhauled the visual layout of 2013 product pages. Extra focus has been given to product photos rather than text.
"We re-designed our 2013 product pages to highlight our product images," states the U.S. Mint website. "Customers have consistently told us that product images are vitally important to them."
For example, the product page for the popular 2013-Proof American Silver Eagle coin now looks like this: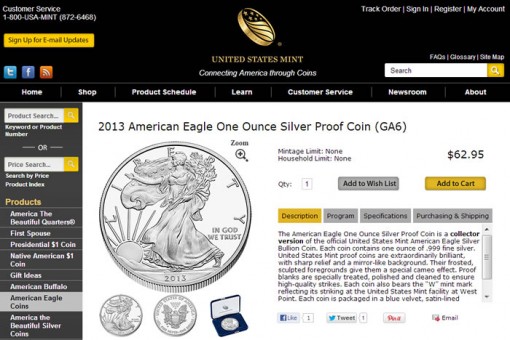 By default, a large photo of the proof coin's obverse is shown. Thumbnail or smaller images are below. When clicking on one of them, like the reverse, it is enlarged. A high-resolution close-up view is also available by using the new zoom tool.
Descriptions, coin specifications and other details about the proof Silver Eagle remain the same as before, but are tabbed and to the right. Social media and email options are also new. Facebook, Twitter, Pinterest and email icons and below the text.
At the very bottom of product pages are images and links to related U.S. Mint coins and sets.
In contrast, the old product page for the 2013-Proof American Silver Eagle coin looked like this: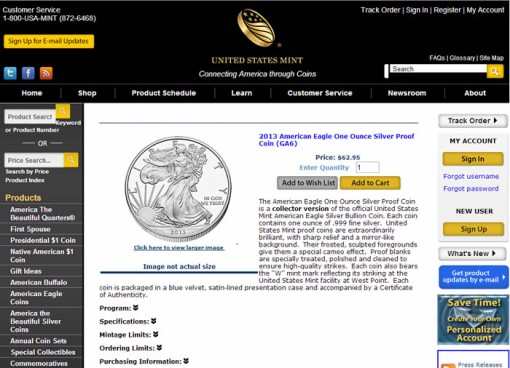 This same design remains in use for pre-2013 product pages.
These new enhancements mark the fourth set of major website changes published in recent months. The U.S. Mint offers a visual tour of what has been improved by month. These tours are found here. Customers may offer suggestions for more improvements and comment about the new changes right here.