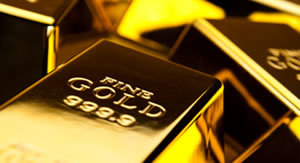 Gold lost 2.3% this week, ending Friday at a seven-month low as prices fell in six of the last seven trading sessions. Silver led weekly declines among precious metals, down 4.7%. Platinum followed at 4.2% and palladium lost 2.4%.
On Friday, gold futures for April delivery dipped $5.80, or 0.4%, to $1,572.80 an ounce on the Comex in New York. That marked the lowest settlement price for gold since it ended at $1,570.80 an ounce on July 18. The precious metal for the year is now off $103, 6.1%.
Gold was hammered this week by technical selling and bearish Fed news. Minutes made available Wednesday from the last FOMC meeting in January revealed that stimulus measure could end earlier than expected.
"The reason for the fall in the precious metals was primarily the technical picture, with traders and speculators breaking support and causing prices to free fall to these current levels," MarketWatch quoted Julian Phillips, a South Africa-based founder and contributor to GoldForecaster.com. "Interpretations of the Fed minutes were said to be the reason by some."
Gold Price Expectations
Last week's bearish-leaning gold surveys proved foretelling. Bullish sentiment improved a bit for more participants in the latest surveys.
"Most participants in Kitco News' weekly gold survey said they look for gold prices to either stabilize or bounce next week," reports Kitco.

"In the Kitco News Gold Survey, out of 33 participants, 21 responded this week. Of those, 11 see prices up, seven see prices sideways and three look for the recent slide to resume next week…

Many cite potential for a short-term technical bounce from 'oversold' conditions and as major chart support holds…"
Bloomberg's gold survey from last week with 20 down votes and 11 votes up was the most bearish since December 30, 2011. This week, 16 of 31 traders surveyed still expect gold to decline next week. Nine were bullish.
Silver, Platinum and Palladium Futures
In other New York bullion futures on Friday and for the year:
Silver for March delivery declined 23.9 cents, or 0.8%, to settle at $28.46 an ounce. Silver is down $1.77, or 5.8%, in 2013.

April platinum slid $12.60, or 0.8, to $1,607.40 an ounce. The precious metal year-to-date has gained $65.00, or 4.2%.

Palladium for March delivery advanced $1.70, or 0.2%, to finish at $735.30 an ounce. Palladium has advanced $31.95, or 4.5%, in 2013.
London Bullion Prices
Aside from palladium which jumped, London precious metals logged modest changes on Friday. When comparing the Thursday PM to Friday PM London fixings:
Gold declined 50.0 cents to $1,576.50 an ounce,
Silver climbed 7.0 cents, or 0.2%, to $28.79 an ounce,
Platinum added $4.00, or 0.2%, to $1,611.00 an ounce, and
Palladium gained $10.00, or 1.4%, to $732.00 an ounce
All were down from a week ago with losses of 2.2% for gold, 4.6% for silver, 3.9% for platinum and 2.9% for palladium.
US Bullion Coin Sales in February
Sales improved sharply this week for U.S. Mint bullion coins. In weekly breakdowns:
Gold bullion coin sales totaled 26,000 ounces compared to the previous weekly total of 10,500 ounces. Splits were 20,000 ounces in 22-karat American Gold Eagles and 6,000 ounces in 24-karat American Buffalo gold coins.

Silver bullion coin sales reached 936,000 versus the prior week's 682,500 ounces. Splits across the 99.9% pure silver coins were 903,000 ounces in American Silver Eagles and 33,000 ounces in America the Beautiful 5 oz. coins.
Bullion sales figures by U.S. Mint product follow.
American Eagle and Buffalo Bullion Coin Sales
Friday Sales
Last Week
Weekly Sales
Feb Sales
YTD Sales
$50 American Eagle Gold Bullion Coins
6,500
7,000
14,000
52,000
176,500
$25 American Eagle Gold Bullion Coins
0
1,000
2,000
4,000
21,000
$10 American Eagle Gold Bullion Coins
2,000
0
6,000
10,000
34,000
$5 American Eagle Gold Bullion Coins
0
10,000
35,000
65,000
175,000
$50 American Buffalo Gold Bullion Coins
0
2,000
6,000
9,000
81,500
American Eagle Silver Coins
24,000
688,000
903,000
2,546,500
10,044,500
America the Beautiful 5 Oz. Silver Bullion Coin Sales
Friday Sales
Last Week
Weekly Sales
Feb Sales
All-Time Sales
2012 El Yunque National Forest 5 oz. Silver Bullion Coins
0
100
1,600
2,100
24,000
2012 Chaco Culture National Historical Park 5 oz. Silver Bullion Coins
0
-400
1,200
1,800
21,800
2012 Acadia National Park 5 oz. Silver Bullion Coins
0
0
0
0
25,400
2012 Hawai'i Volcanoes 5 oz. Silver Bullion Coins
0
0
0
0
20,000
2012 Denali National Park 5 oz. Silver Bullion Coins
0
0
0
0
20,000
2011 Olympic National Park 5 oz. Silver Bullion Coins
0
0
0
0
104,900
2011 Vicksburg National Military Park 5 oz. Silver Bullion Coins
0
2,000
0
2,200
45,700
2011 Chickasaw Park 5 oz. Silver Bullion Coins
0
2,000
3,800
3,740
39,400
TOTAL
0
3,700
6,600
9,840
301,200
The Chaco Culture silver coin total declined 400 last Monday. Negative adjustments were previously made across the Chickasaw silver coin.
All bullion figures above are in the number of coins sold. Calculate total ounces by using the bullion coin's weight.
In weekly U.S. Mint coin news, the bureau on Wednesday reduced prices on some if its gold coins but it also published upcoming premium increases. Finally, design candidates are available for next year's circulating quarters and America the Beautiful 5 oz. silver coins.