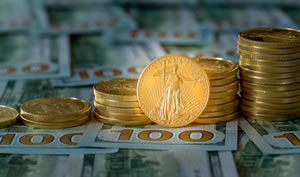 Gold dropped for a fifth session in a row, settled at an 8-month low, and notched a second straight week of declines.
Gold for December delivery shed $7.50, or 0.6%, to close at $1,231.50 an ounce on the Comex division of the New York Mercantile Exchange.
"A stronger dollar and higher bond yields have been an issue for gold all week, and remain a headwind going forward," Reuters quoted ANZ analyst Victor Thianpiriya. "With geopolitical concerns also easing, there seems to be little support for gold in the short-term."
The settlement price marks a 2.8% weekly fall and it is the lowest level since gold ended at $1,229.40 an ounce on Jan. 9.
"Gold is just not as appealing of an asset at this time," Tim Evans, the chief market strategist at Long Leaf Trading Group Inc. in Chicago, said in a telephone interview according to Bloomberg News. "The market is not expecting an inflationary environment for some time. The strength in the U.S. dollar and the strength in equity markets have attracted global capital. Those forces outweigh geopolitical tensions."
Gold gave back a chunk of prior gains during the last two weeks. The precious metal is now holding on to a 2.4% increase from the 2013 close of $1,202.30 an ounce.
Gold Outlook
Most participants in the latest Kitco News survey are bearish about gold prices next week — this, after two consecutive weeks of mixed expectations. Eighteen of the survey takers expect gold to fall, 5 see it higher and 1 sees it trading sideways.
"The geopolitical situation is tenuous, and that puts a bid under gold. It also drives the dollar up, of course, which is negative for gold, but the geopolitical situation is likely to help gold more than the dollar," Kitco News quoted Adrian Day, chairman and chief executive officer, Adrian Day Asset Management.
Kitco gold survey results last week had splits of 9 down, 8 up, and 5 sideways or neutral.
Silver, Platinum and Palladium Futures
Silver for December delivery edged up less than a penny to $18.61 an ounce, rebounding from its lowest price since June 28, 2013. Silver prices still dropped 2.9% from a week ago and they are down 3.9% on the year.
In PGM futures on Friday and for the week:
October platinum dipped 20 cents to $1,370.50 an ounce, falling for a 2.9% weekly decline.

Palladium for December delivery advanced $2.85, or 0.3%, to $836.05 an ounce, yet tumbled 6.2% from a week ago.
Platinum's weekly loss drove its price 0.2% lower for the year and, despite sharp declines this week, palladium prices are 16.4% higher for the year-to-date.
London Fix Precious Metals
London precious metals declined on Friday and plunged for the week. First, when comparing London bullion Fix prices and the LBMA Silver Price from Thursday PM to Friday PM:
Gold fell $9.75, or 0.8%, to $1,231.50 an ounce,
Silver shed 6 cents, or 0.3%, to $18.64,
Platinum dropped $18, or 1.3%, to $1,360 an ounce, and
Palladium declined $17, or 2%, to $829 an ounce
As for the week, losses totaled to 2.7% for gold, 2.6% for silver, 3.3% for platinum and 6.5% for palladium.
US Mint Bullion Sales
U.S. Mint bullion demand was mixed like the previous week, but swapped in focus with silver coin sales stronger and gold coins sales weaker. In the latest week-over-week differences:
Gold coin sales rose 7,000 ounces after jumping 20,000 ounces last week. Splits were 6,000 ounces in American Gold Eagles compared to 17,000 ounces previously, and 1,000 ounces in American Gold Buffalos compared to 3,000 ounces previously.

American Silver Eagles advanced 470,000 after gaining 340,000 in the previous week.

America the Beautiful Five Ounce Silver Bullion Coins increased 3,500 units or 17,500 ounces after sales came in flat last week.

American Platinum Eagles rose 100, matching last week. The coins are now in their 24th full week of release after a five-year hiatus.
Below is a sales breakdown of U.S. Mint bullion products with columns listing the number of bullion coins sold on Friday, last week, this week, last month, and the year to date.
American Eagle and Buffalo Bullion Sales (# of coins)
Friday Sales
Sales Last Week
Current Week
August Sales
September Sales
YTD Sales
$100 American Platinum Eagle Bullion Coins
0
100
100
700
200
13,800
$50 American Eagle Bullion Gold Coins
2,000
13,500
5,500
21,000
19,000
264,500
$25 American Eagle Bullion Gold Coins
0
4,000
1,000
0
5,000
32,000
$10 American Eagle Bullion Gold Coins
0
2,000
0
6,000
2,000
86,000
$5 American Eagle Bullion Gold Coins
0
10,000
0
25,000
10,000
420,000
$50 American Buffalo Bullion Gold Coins
0
3,000
1,000
8,000
4,000
129,000
$1 American Eagle Silver Bullion Coins
30,000
340,000
470,000
2,007,500
810,000
28,921,000
Great Smoky Mountains National Park 5 Oz Silver Bullion Coins
0
0
500
0
500
30,000
Shenandoah National Park 5 Oz Silver Bullion Coins
0
0
500
500
500
21,000
Arches National Park 5 Oz Silver Bullion Coins
0
0
0
1,200
0
21,200
Great Sand Dunes 5 Oz Silver Bullion Coins
0
0
2,500
7,500
2,500
10,000