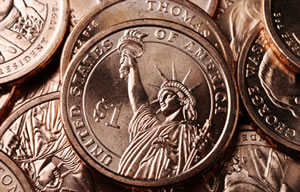 Newly introduced legislation seeks once again to put Presidential $1 Coins on the chopping block. If enacted into law, the proposed bill would strike the current legal requirement to produce dollar coins.
Senator David Vitter (R-La) introduced S.94 on Jan. 23, 2013. Entitled "A bill to terminate the $1 presidential coin program," the proposed legislation is identical to one he introduced two years ago.
Since that time, however, the Presidential $1 Coin Program has undergone a significant change. In December 2011, Secretary of the Treasury Tim Geithner ordered the U.S. Mint to stop striking all $1 coins for circulation. Since then, they have only been minted for numismatic purposes and sold directly by the U.S. Mint.
The $1 coin suspension was initiated as part of a Campaign to Cut Government Waste. At the time, hundreds of millions were produced annually, but most of them shipped to and remained in Federal Reserve Bank vaults. According to estimations back then, there were enough Presidential dollars in storage to meet the circulation needs of the country for more than a decade.
S.94 seeks to amend Title 31, Section 5112 of the United States Code which contains the original authorization for the Presidential $1 Coins. It would remove the legal requirement for the coins by striking subsection (n).
For that to occur, this legislation or similar legislation would need to pass in both chambers of Congress and get signed into law by the President of the United States. The series may still continue even if that happens. Under 31 U.S.C. §5111(a) (3), the Secretary of the Treasury "may prepare and distribute numismatic items," meaning the $1 coins could stay in production if directed by the Secretary.
S.94 is before the Committee on Banking, Housing, and Urban Affairs.
Presidential dollars debuted in 2007. The series features four new coins annually with obverse portraits of the former Presidents of the United States. Those Presidents are honored in the order in which they served. If left unchanged, Presidential dollars will continue through to at least 2016.
Due for release this year are 2013 Presidential $1 Coins honoring William McKinley, Theodore Roosevelt, William Howard Taft and Woodrow Wilson. (See the 2013 $1 designs.)