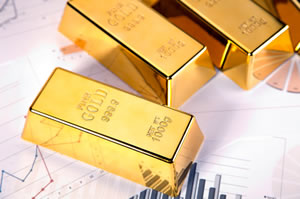 Precious metals mixed it up this week with gold and silver each off 0.4% while platinum climbed 0.2% and palladium surged 1.4%.
Tuesday was the most pivotal day of the week as U.S. fiscal cliff worries drove gold prices down by more than $25 and to a one-month low. Bargain-hunting and improved safe-haven action took credit for reclaiming some of the losses later in the week.
On Friday, gold for February delivery climbed $3.70, or 0.2%, to settle at $1,705.50 an ounce on the Comex in New York. In dollars, gold dropped $7.20 from last Friday. Many analysts do expect gold prices to rise in the coming days, but sentiment is far less bullish than a week ago according to recent gold surveys.
"In the Kitco News Gold Survey, out of 33 participants, 24 responded this week. Of those 24 participants, 15 see prices up, while five see prices down, and four are neutral or see prices moving sideways," reports Kitco.

"Some of those who are bullish say the market's break was overdone and is due for a rebound on oversold conditions… Others who are bullish said once the market gets past the year-end holidays, gold will return to trading on its underlying bullish fundamentals… Those who see weaker prices said gold is in a short-term downtrend and that's unlikely to change."
Bloomberg's gold survey was the least bullish in seven weeks. Fourteen participants forecasted higher gold prices next week while ten were bearish and seven were neutral.
Gold this year has advanced $138.70, or 8.9%.
Silver, Platinum and Palladium Futures
In other New York precious metals futures on Friday and for the year:
March silver added 1.7 cents, or less than 0.1%, to $33.131 an ounce. Silver continues as the best performing precious metal in 2012. Prices are up $5.22, or 18.7%.

Platinum for January delivery settled to $1,607.00 an ounce, climbing $6.30 or 0.4%. Platinum this year has gained $202.10, or 14.4%.

March palladium turned up 95.0 cents, or 0.1%, to $698.00 an ounce. Down for the year only a month ago, sharp gains in recent weeks have pushed prices up $41.85, or 6.4%.
Precious Metals in London
Bullion prices in London were higher Friday. When comparing the latest PM Fix prices:
Gold added $7.25, or 0.4%, to $1,701.50 an ounce,
Silver gained 2.0 cents, or less than 0.1%, to $32.85 an ounce,
Platinum tacked on $18.00, or 1.1%, to $1,600.00 an ounce, and
Palladium leapt $12.00, or 1.8%, to $698.00 an ounce
Excluding palladium's 1.9% increase, London precious metals were off on the week. Losses were 1.4% for gold, 4.2% for silver and 0.7% for platinum.
US Mint Bullion Coin Sales in December
U.S. Mint bullion coin sales advanced daily Tuesday through Friday, logging strong numbers on the week. That said, while sales levels jumped for silver coins they retreated for gold coins. In a breakdown of weekly coin sales:
Bullion gold coins totaled 30,500 ounces with splits of 26,500 ounces in 22-karat American Eagle gold coins and 4,000 ounces of 24-karat American Buffalo gold coins. Total sales for both coins last week were more than double at 76,000 ounces. But then the one-ounce Gold Eagles had an extraordinary single day advance last week of 44,500, an amount that surpassed several prior monthly levels this year.

Bullion silver coin sales totaled 913,000 ounces with splits of 903,000 ounces of American Eagle silver coins and 10,000 ounces of America the Beautiful 5 Ounce Silver Bullion Coins. Sales last week for both coins totaled 522,500 ounces. Silver Eagles this week topped 33 million in year-to-date sales. Only two other years — 2011 and 2010 — can claim the same milestone in the series 27-year history.
For a review on November bullion coin performances, read this coin news article.
U.S. Mint bullion sales on Friday, for the week, December and year-to-date follow.
US Mint American Eagle and Buffalo Bullion Coin Sales
Friday Sales
Last Week
Week / December Sales
YTD 2012
$50 American Eagle Gold Coins
2,000
68,000
24,500
618,500
$25 American Eagle Gold Coins
0
2,000
2,000
70,000
$10 American Eagle Gold Coins
2,000
0
4,000
74,000
$5 American Eagle Gold Coins
0
5,000
0
315,000
$50 American Buffalo Gold Coins
500
6,500
4,000
128,000
American Silver Eagle Coin
150,000
500,000
903,000
33,010,500
America the Beautiful 5 Oz. Silver Bullion Coin Sales
Friday Sales
Last Week
Week / December Sales
All-Time Total
2012 El Yunque National Forest 5 oz. Silver Bullion Coins
0
0
2,000
21,900
2012 Chaco Culture National Historical Park 5 oz. Silver Bullion Coins
0
0
0
20,000
2012 Acadia National Park 5 oz. Silver Bullion Coins
0
3,100
0
25,400
2012 Hawai'i Volcanoes 5 oz. Silver Bullion Coins
0
0
0
20,000
2012 Denali National Park 5 oz. Silver Bullion Coins
0
1,400
0
20,000
2011 Olympic National Park 5 oz. Silver Bullion Coins
0
0
0
85,900
2011 Vicksburg National Military Park 5 oz. Silver Bullion Coins
0
0
0
39,500
2011 Chickasaw Park 5 oz. Silver Bullion Coins
0
0
0
29,700
TOTAL
0
4,500
2,000
262,400
Sales above are in the number of coins sold. Calculate total ounces by using the weight of the coin.