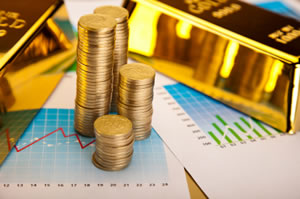 Most precious metals were lower Friday and for the week but only gold posted a loss for November, falling 0.4%.
Despite that, November sales of U.S. Mint American Eagle gold coins more than doubled the previous month and more than tripled the same period last year, logging the best month since July 2010 and the best November since 1998.
"There is a significant amount of industry selling in anticipation of higher taxes related to the fiscal cliff," Reuters quoted Frank McGhee, head precious metals trader at Integrated Brokerage Services LLC. "On the other hand, there is a fair amount of retail buying, but in this case Wall Street tends to win."
On Friday, gold for February delivery fell $16.80, or 1.0%, to settle at $1,712.70 an ounce on the Comex in New York. The yellow metal was off 2.2% for the week. Last week gold rallied 2.1% and closed at its highest price since Oct. 17, thanks in large part to a Friday bounce of more than $23.
"The breakout was a fake-out. Whoever bought gold last Friday as the market pushed to a five-week high realized they had a problem when there was no follow to start this week," Kitco News quoted Frank Lesh, broker and futures analyst at FuturePath Trading.

"Most markets are now hostage to the fiscal cliff debate as it is now risk on or risk off at any moment and no one really knows how the situation will turn out. There is also some end-of-year profit taking and tax selling going on, but until there is more clarity on this issue, I expect gold to chop around in a range, so look for prices to be steady," added Lesh.
Kitco's weekly gold survey is bullish for gold prices next week with 18 participants seeing prices higher, 2 expecting them to fall and five neutral.
Gold has gained $145.90, or 9.3%, in 2012. It is the third best-performing precious metal, behind silver which is up 19.2% ($5.36) and platinum which is higher by 14.2% ($199.70). In the red in October, Palladium has logged a 4.9% ($32.05) increase this year after rising every week in November.
Silver, Platinum and Palladium Futures
As for other precious metals on Friday, for the week and in November:
March silver plunged $1.152, or 3.4%, to $33.279 an ounce. Silver dropped 2.5% for the week but gained 3.0% in November.

Platinum for January delivery declined $14.90, or 0.9%, to $1,604.60 an ounce. It declined 0.8% this week but climbed 1.8% for November.

Palladium was an outlier in precious metals on Friday and for the week. March palladium gained 75.0 cents, or 0.1%, to $688.20 an ounce. It advanced this week by 3.1% and soared in November by 12.9%.
Precious Metals in London
London precious metals missed the pounding most New York bullion futures experienced on Friday. When comparing the latest London PM Fix prices:
Gold edged up $1.00, or less than 0.1%, to $1,726.00 an ounce,
Silver added 52.0 cents, or 1.5%, to $34.28 an ounce,
Platinum declined $8.00, or 0.5%, to $1,612 an ounce, and
Palladium rose $3.00, or 0.4%, to $685.00 an ounce
For the week in London, metals gaining included silver at 2.6%, platinum at 1.8% and palladium at 4.2%. Gold declined 0.5%.
London precious metals advanced across the board in November. Gains were 0.4% for gold, 6.2% for silver, 2.7% for platinum and 13.0% for palladium.
US Mint Bullion Coin Sales in November
United States Mint distributors ordered more bullion coins Friday, adding to already exceptionally strong monthly numbers. November bullion product sales have not been officially closed by the U.S. Mint, although the totals are not likely to change. As they stand now for November:
American Eagle gold coin sales are at 136,500 ounces, more than doubling the 59,000 ounces in October and better than tripling the 41,000 ounces in November 2011. The last month to perform better was July 2010 when sales reached 152,000 ounces.

American Buffalo gold coin sales reached 16,500 ounces, which is 5,500 more than the previous month and nearly double the 8,500 sold during the same period last year.

American Eagle silver coin sales hit 3,159,500, just above the 3,153,000 in October and more than twice the 1,384,000 in November 2011.

America the Beautiful 5 Ounce Silver Coins are at 19,700, the second best monthly level of the year. October leads at 22,100.
A breakdown of U.S. Mint bullion coin sales by type are in the tables below.
US Mint American Eagle and Buffalo Bullion Coin Sales
Friday Sales
Last Week
Weekly Sales
November Sales
YTD 2012
$50 American Eagle Gold Coins
5,000
10,000
68,000
129,500
594,000
$25 American Eagle Gold Coins
1,000
0
2,000
5,000
68,000
$10 American Eagle Gold Coins
0
0
0
4,000
70,000
$5 American Eagle Gold Coins
0
10,000
5,000
35,000
315,000
$50 American Buffalo Gold Coins
1,000
2,000
6,500
16,500
124,000
American Silver Eagle Coin
25,000
394,000
500,000
3,159,500
32,107,500
America the Beautiful 5 Oz. Silver Bullion Coin Sales
Friday Sales
Last Week
Weekly Sales
November Sales
All-Time Total
2012 El Yunque National Forest 5 oz. Silver Bullion Coins
0
0
0
1,800
19,900
2012 Chaco Culture National Historical Park 5 oz. Silver Bullion Coins
0
0
0
1,800
20,000
2012 Acadia National Park 5 oz. Silver Bullion Coins
0
0
3,100
3,600
25,400
2012 Hawai'i Volcanoes 5 oz. Silver Bullion Coins
0
0
0
5,000
20,000
2012 Denali National Park 5 oz. Silver Bullion Coins
0
3,600
1,400
7,500
20,000
2011 Olympic National Park 5 oz. Silver Bullion Coins
0
0
0
0
85,900
2011 Vicksburg National Military Park 5 oz. Silver Bullion Coins
0
0
0
0
39,500
2011 Chickasaw Park 5 oz. Silver Bullion Coins
0
0
0
0
29,700
TOTAL
0
3,600
4,500
19,700
260,400
Bullion coin sales above are in the number of coins sold. Total ounces may be calculated by using the weight of the coin.
In related coin news, the latest weekly sales of U.S. Mint numismatic products showed strong sales for annual sets and proof American Eagle gold coins.