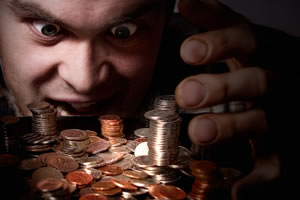 Anecdotal evidence is growing that more criminals are targeting coin collections, even if they don't always understand their true value. Consider five cases from 2012:
In January, police in Oregon arrested burglars who had taken a rare coin collection, the results of 100 years and several generations. News reports didn't give the value of the collection, which weighed about 60 pounds and included some jewelry. However, they did note that the burglars didn't realize the value of what they'd taken. They deposited the coins into a money counting machine and collected only $540 for it.

In May, an Annandale, VA, couple reported the theft of a coin and bank note collection worth up to $500,000 from their care. They'd just returned home from a coin show in Charlottesville and left the collection unattended for about 10 minutes, though it was hidden under a blanket.

In June, a Minnesota woman was charged with taking a coin collection valued only at "more than $10,000" from her mother.

In September, a handyman and his girlfriend were accused of taking a collection valued at $100,000 from a Vancouver, WA, woman. Her coins were kept in boxes in her garage. The thieves allegedly spent some of the coins at face value to buy pizza.

In November, two men were arrested in California and charged with breaking into House Minority Leader Nancy Pelosi's residence — twice — and taking a coin collection. The men apparently smashed their way into glass doors to get to the collection.
While the exact number of coin-related burglaries is not always reported, there are some estimates of the seriousness of the problem. The Butternut Company, a private company that specializes in Civil War tours and coins, reports that one in three collections eventually will be stolen.
Collectors, of course, can take measures to combat theft. Many keep their coins, especially the most valuable ones, in a bank safe deposit box. That offers security but comes with a few downsides as well. For one, the collector's access to his prized possessions is limited — he or she can only get to them during banking hours.
Likewise, basements, attics and garages aren't good options either, because of varying temperature and humidity levels. Collectors also shouldn't keep coins near the kitchen due to potential exposure to smoke and grease.
Keeping your coin collection safe is only part of the challenge.  Preparing for a possible loss is another important responsibility of any collector — and that involves securing proper insurance coverage. There are three basic options for insuring a coin collection. Consider the following:
Standard home insurance policies typically include coverage for a homeowners' personal property and contents. However, policies generally include a $200 maximum for currency, including coin collections. If your coin collection is valued at $200 or less this may be enough coverage.

Coverage under home insurance policies can be bolstered by scheduling an endorsement onto the existing policy. This allows the collector to increase the maximum coverage for an item, such as a coin collection, so that the homeowner is properly insured.

Personal article floaters are separate policies, often offered by specialty companies familiar with the collectible item. A coin collector may want to purchase this policy if they want to customize their coverage and the perils that their collection is covered for. For example, this type of policy may cover a collector from a theft that occurs off of their property such as at a coin show.
Whichever type of policy a collector decides to go with, they should always make sure their collection is insured up to full value and have an appraisal performed. An inventory of the collection will help when a claim is filed. Collectors also need to revisit their coverage periodically, particularly when valuable coins are added.
The cost varies according to the collection. But with the high potential for theft, coverage should always be a consideration for a numismatic.
This article was contributed by Carrie Van Brunt-Wiley, Editor of the HomeInsurance.com Blog.