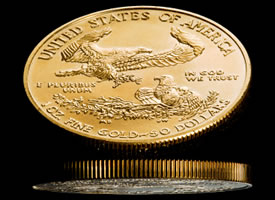 Gold, silver and platinum greeted the new trading month with modest losses totaling 0.2% each. Palladium, on the other hand, bucked the trend by kicking off November with a 0.4% increase.
Gold for December delivery shed $3.60 to close at $1,715.50 an ounce on the Comex in New York. Prices traded from an intraday low of $1,715.10 to a high of $1,727.50. Strength in the U.S. dollar was a cited explanation for gold's decline.
"The stronger dollar is putting pressure on gold," Phil Streible, a senior commodity broker at R.J. O'Brien & Associates, said in a telephone interview that was relayed on Bloomberg. "The dollar is the winner today."
A higher U.S. dollar generally makes it more expensive for holders of other currencies to purchase commodities like gold.
Silver prices for December delivery lost 6.8 cents to $32.248 an ounce. Prices moved between $32.190 and $32.695.
Platinum for January delivery closed at $1,573.20 an ounce, dipping $3.80. The PGM metal ranged from $1,567.00 to $1,583.70.
Palladium for December advanced $2.65 to $612.45 an ounce. Palladium traded between $603.55 and $617.70.
London Bullion Prices
Precious metals were mixed in London. In contrasting the latest London PM fixings:
Gold declined $2.75, or 0.2%, to $1,716.25 an ounce,
Silver added 38.0 cents, or 1.2%, to $32.66 an ounce,
Platinum advanced $5.00, or 0.3%, to $1,575.00 an ounce, and
Palladium gained $8.00, or 1.3%, to $614.00 an ounce
U.S. Mint Bullion Coin Sales in November
Sales advanced Thursday for the U.S. Mint's one ounce American Gold Eagle coin. The 22-karat gold piece rose 3,000. Other U.S. Mint bullion sales levels remained unchanged. The following table provides the most recent sales figures as published by the U.S. Mint.
Sales of US Mint American Eagle and Buffalo Bullion Coins
Daily Sales
November Sales
YTD 2012
$50 American Gold Eagle Coin
3,000
3,000
467,500
$25 American Gold Eagle Coin
0
0
63,000
$10 American Gold Eagle Coin
0
0
66,000
$5 American Gold Eagle Coin
0
0
280,000
$50 American Buffalo Gold Coins
0
0
107,500
American Eagle Silver Coins
0
0
28,948,000
Sales of America the Beautiful 5 Oz. Silver Bullion Coins
Daily Sales
November Sales
All-Time Total
2012 El Yunque National Forest 5 oz. Silver Bullion Coins
0
0
18,100
2012 Chaco Culture National Historical Park 5 oz. Silver Bullion Coins
0
0
18,200
2012 Acadia National Park 5 oz. Silver Bullion Coins
0
0
21,800
2012 Hawai'i Volcanoes 5 oz. Silver Bullion Coins
0
0
15,000
2012 Denali National Park 5 oz. Silver Bullion Coins
0
0
12,500
2011 Olympic National Park 5 oz. Silver Bullion Coins
0
0
85,900
2011 Vicksburg National Military Park 5 oz. Silver Bullion Coins
0
0
39,500
2011 Chickasaw Park 5 oz. Silver Bullion Coins
0
0
29,700
TOTAL
0
0
240,700