On May 4, 2012, the Royal Canadian Mint struck the last penny to be produced for Canadian circulation. It is entrusted to the Currency Museum of the Bank of Canada in Ottawa.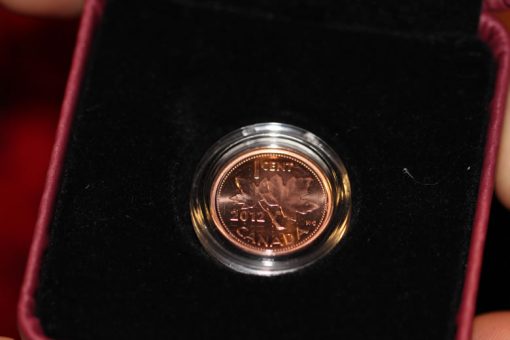 Nearly as unique, the second-to-last Canadian penny produced is now on display at the American Numismatic Association's Edward C. Rochette Money Museum in Colorado Springs.
"The discontinuation of the Canadian cent is the end of an era. It marks a trend in world coinage where nations are simplifying their currencies and cutting costs by getting rid of their smallest denominations," said ANA Money Museum Curator Douglas Mudd.
Donated to an ANA collection that consists of more than 275,000 numismatic items from around the world, the Canadian penny is featured alongside older pennies in an exhibit open to the public.
"The Mint has proudly produced the penny to satisfy the needs of Canada's trade and commerce for over one hundred years," said Ian E. Bennett, President and CEO of the Royal Canadian Mint, on the day the final penny for circulation was struck.
More than 35 billion one-cent coins were produced domestically since 1908, according to the Royal Canadian Mint. To celebrate the penny's unique role in the history of coinage, the Mint this year has already released several commemorative "Farewell to the Penny" coins.
In Economic Action Plan 2012, the Government of Canada announced that it will modernize Canada's currency set by eliminating the penny due to rising labor, metal and other manufacturing and distribution expenses that resulted in a per-coin production cost of more than 1.6 cents.
While Canadians are being encouraged to donate their pennies to charities, they may still be used in everyday transactions as its value will be retained indefinitely. The Royal Canadian Mint stated it would no longer distribute any "as of Fall 2012." When they are no longer available, businesses will round cash transactions to the nearest five-cent increment.
ANA Museum Location and Hours
The Edward C. Rochette Money Museum is the largest American museum that is dedicated solely to the study and collection of money. It is located at 818 N. Cascade Ave. in Colorado Springs. Hours are 10:30 a.m. to 5 p.m. Tuesday through Saturday. Admission is $5 for adults, $4 for seniors, students or military and free for children 12 and under. Entry for ANA members is free. The general public can see exhibits for free on the third Saturday of every month. Guided tours are also available.