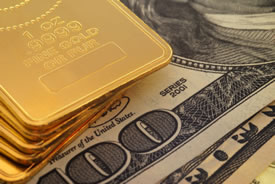 Gold advanced for a second day Wednesday as weakness in the U.S. dollar pulled investors toward commodities. The greenback fell to a one-month low against other major currencies after Spain kept its investment-grade credit rating from Moody's Investors Service.
Gold prices for December delivery rose $6.70, or 0.4%, to settle at $1,753.00 an ounce on the Comex in New York. The precious metal ranged from an intraday low of $1,744.00 to a high of $1,755.00. Trading volume was a bit thin.
"Gold has moved in tandem to a certain degree with the euro and other commodities and rallied overnight on a weaker dollar, but it has run out of steam," Reuters quoted David Govett, head of precious metals at Marex Spectron.

"Most people are sitting back and waiting for tomorrow's European Union summit to go ahead to see if anything comes out of that. If there was a sudden announcement and Spain asked for help then it will be good for the euro, the dollar would come off and it would be good for gold."
Silver for December delivery settled up 27.3 cents, or 0.8%, to $33.232 an ounce. The white metal traded between $32.88 and $33.30.
"As well as a precious metal, silver has many industrial uses and if the global economic recovery gathers pace, so too should the physical demand," MarketWatch quoted Fawad Razaqzada, technical analyst at GFT Markets.

"The historical ratio of silver-to-gold suggests the former can potentially outperform the latter by a factor of three in the long term," he said. "Also, silver is a much smaller market compared to gold and it is thought that a handful of bullion banks hold massive short positions which, if they liquidate, could lead to a major spike in the price."
Platinum for January delivery ended at $1,670.50 an ounce, rallying $25.30 or 1.5%. Platinum ranged from $1,646.60 to $1,672.90.
Palladium for December surged $14.25, or 2.3%, to $653.40 an ounce, trading between $639.75 and $654.95.
London Bullion Prices
London bullion prices climbed as well, but modestly compared to futures in New York. In contrasting London PM Fix prices:
Gold rose $2.50, or 0.1%, to $1,749.00 an ounce,
Silver advanced 23.0 cents, or 0.7%, to $33.03 an ounce,
Platinum gained $16.00, or 1.0%, to $1,656.00 an ounce, and
Palladium added $4.00, or 0.6%, to $643.00 an ounce
U.S. Mint Bullion Coin Sales in October
Sales levels for United States Mint bullion coins were unchanged Wednesday after robust gains on the previous day. The following table provides the most recent daily, October and year-to-date bullion sales figures as provided by the U.S. Mint.
Sales of US Mint American Eagle and Buffalo Bullion Coins
Daily Sales
October Sales
YTD 2012
$50 American Eagle Gold Coins
0
29,000
439,500
$25 American Eagle Gold Coins
0
0
61,000
$10 American Eagle Gold Coins
0
2,000
64,000
$5 American Eagle Gold Coins
0
15,000
265,000
$50 American Buffalo Gold Coins
0
7,500
104,000
American Eagle Silver Coins
0
1,818,000
27,613,000
Sales of America the Beautiful 5 Oz. Silver Bullion Coins
Daily Sales
October Sales
All-Time Total
2012 El Yunque National Forest 5 oz. Silver Bullion Coins
0
0
17,900
2012 Chaco Culture National Historical Park 5 oz. Silver Bullion Coins
0
1,000
18,200
2012 Acadia National Park 5 oz. Silver Bullion Coins
0
500
18,500
2012 Hawai'i Volcanoes 5 oz. Silver Bullion Coins
0
1,000
11,400
2011 Olympic National Park 5 oz. Silver Bullion Coins
0
0
85,900
2011 Vicksburg National Military Park 5 oz. Silver Bullion Coins
0
0
39,500
2011 Chickasaw Park 5 oz. Silver Bullion Coins
0
0
29,700
TOTAL
0
2,500
221,100
In other U.S. Mint related coin news, check out the latest sales for the bureau's 24-karat First Spouse Gold Coins.