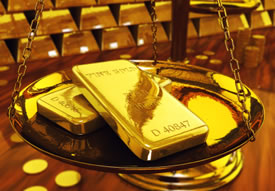 Gold fell more on Monday than all of last week as investors flocked to the U.S. dollar and stocks and shunned commodities.
Gold for December delivery fell $22.10, or 1.3%, to $1,737.60 an ounce on the Comex in New York. Intraday prices ranged from a low of $1,729.70 to a high of $1,755.50. Gold prices fell 0.6% last week.
"Gold's lack of follow-through on its recent rally is leading traders with itchy trigger fingers to sell," MarketWatch quoted Brien Lundin, editor of Gold Newsletter.

"It's going to be difficult for gold to mount a sustained upward move until after the presidential election provides some clarity as to the direction of U.S. economic policy going forward."
Silver for December delivery plunged 92.6 cents, or 2.8%, to $32.743 an ounce. It moved between intraday prices of $32.57 and $33.47.
Platinum for January delivery settled to $1,632.30 an ounce, falling $27.00 or 1.6%. Platinum traded between $1,623.00 and $1,658.00.
Palladium for December declined $6.45, or 1.0%, to $632.60 an ounce, ranging from $624.00 to $643.10.
Precious metals losses last week were 2.6% for silver, 2.8% for platinum and 3.6% for palladium.
London Precious Metals Prices
London precious metals were also lower in starting the week. In contrasting the latest London PM Fix prices:
Gold fell $30.75, or 1.7%, to $1,736.00 an ounce,
Silver declined 57.0 cents, or 1.7%, to $33.22 an ounce,
Platinum stepped back $37.00, or 2.2%, to $1,641.00 an ounce, and
Palladium retreated $13.00, or 2.0%, to $637.00 an ounce
Losses last week were 1.0% for gold, 3.0% for silver, 1.9% for platinum and 2.5% for palladium.
U.S. Mint Bullion Coin Sales for October and YTD
Monday's are typically among the best sales days for U.S. Mint bullion coins. That has not been the case in October. For a third straight Monday, the U.S. Mint reported no gains for any of its bullion products.
The following table provides the most recent daily, October and year-to-date bullion sales figures as provided by the U.S. Mint.
Sales of US Mint American Eagle and Buffalo Bullion Coins
Daily Sales
October Sales
YTD 2012
$50 American Eagle Gold Coins
0
16,000
426,500
$25 American Eagle Gold Coins
0
0
61,000
$10 American Eagle Gold Coins
0
0
62,000
$5 American Eagle Gold Coins
0
10,000
260,000
$50 American Buffalo Gold Coins
0
5,500
102,000
American Eagle Silver Coins
0
1,408,000
27,203,000
Sales of America the Beautiful 5 Oz. Silver Bullion Coins
Daily Sales
All-Time Total
2012 El Yunque National Forest 5 oz. Silver Bullion Coins
0
17,900
2012 Chaco Culture National Historical Park 5 oz. Silver Bullion Coins
0
17,200
2012 Acadia National Park 5 oz. Silver Bullion Coins
0
18,500
2012 Hawai'i Volcanoes 5 oz. Silver Bullion Coins
0
10,400
2011 Olympic National Park 5 oz. Silver Bullion Coins
0
85,900
2011 Vicksburg National Military Park 5 oz. Silver Bullion Coins
0
39,500
2011 Chickasaw Park 5 oz. Silver Bullion Coins
0
29,700
TOTAL
0
219,100