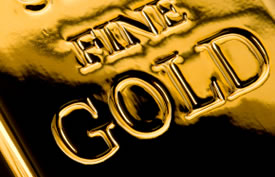 Gold settled slightly higher Thursday, extending its winning streak to two days. A weaker U.S. dollar was mainly attributed for the pick-up.
Gold for December delivery traded up $5.50, or 0.3%, to $1,770.60 an ounce on the Comex in New York. The precious metal moved between intraday levels of $1,760.20 and $1,776.60.
"As discussed recently, I was cautious to short term bearish on gold based on overbought sentiment mainly. If it can hold 1753, it has a chance to spring back over 1800," David Banister, chief investment strategist at Active Trading Partners, wrote in an email that was cited on The Street.
In other New York bullion prices on Thursday:
Silver prices for December delivery shed 2.7 cents, or 0.1%, to $34.082 an ounce, ranging from $33.815 to $34.380.

Platinum for January delivery rose $11.10, or 0.7%, to $1,689.60 an ounce, trading between $1,663.40 and $1,696.00.

Palladium for December edged up $1.00, or 0.2%, to $650.90 an ounce, ranging from $646.00 to $657.00.
London Bullion Prices
London precious metals were mixed on the day. Silver was a standout, rising sharply as the other metals changed marginally. In contrasting London PM Fix prices:
Gold added $7.75, or 0.4%, to $1,769.00 an ounce,
Silver advanced 46.0 cents, or 1.4%, to $34.25 an ounce,
Platinum climbed $10.00, or 0.6%, to $1,681.00 an ounce, and
Palladium declined $1.00, or 0.2%, to $649.00 an ounce
U.S. Mint Bullion Coin Sales for October and YTD
Sales levels for U.S. Mint bullion coins have remained unchanged since last Friday, with the popular and usually very active bullion Silver Eagles notably silent for an entire week. The following table provides the most recent daily, October and year-to-date bullion sales figures as provided by the U.S. Mint.
Sales of US Mint American Eagle and Buffalo Bullion Coins
Daily Sales
October Sales
YTD 2012
$50 American Eagle Gold Coins
0
7,500
418,000
$25 American Eagle Gold Coins
0
0
61,000
$10 American Eagle Gold Coins
0
0
62,000
$5 American Eagle Gold Coins
0
10,000
260,000
$50 American Buffalo Gold Coins
0
2,500
99,000
American Eagle Silver Coins
0
1,233,000
27,028,000
Sales of America the Beautiful 5 Oz. Silver Bullion Coins
Daily/October Sales
All-Time Total
2012 El Yunque National Forest 5 oz. Silver Bullion Coins
0
17,900
2012 Chaco Culture National Historical Park 5 oz. Silver Bullion Coins
0
17,200
2012 Acadia National Park 5 oz. Silver Bullion Coins
0
18,000
2012 Hawai'i Volcanoes 5 oz. Silver Bullion Coins
0
10,400
2011 Olympic National Park 5 oz. Silver Bullion Coins
0
85,900
2011 Vicksburg National Military Park 5 oz. Silver Bullion Coins
0
39,500
2011 Chickasaw Park 5 oz. Silver Bullion Coins
0
29,700
TOTAL
0
218,600