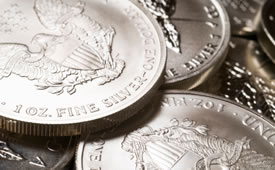 Gold, silver and other precious metals rallied Thursday, as did U.S. Mint American Eagle silver coins. Gold reached its highest price in 11 months, nearing $1,800 an ounce, while silver topped $35 an ounce for its highest price since early March.
Gold prices for December delivery rallied $16.70, or 0.9%, to close at $1,796.50 an ounce on the Comex in New York. The settlement was the highest since November 9. Gold reached an intraday high of $1,797.70, touching a low of $1,779.90.
Gains were bolstered, opined analysts, by reaffirmed stimulus expectations from the European Central Bank when ECB President Mario Draghi reiterated a commitment to its new government bond-buying plan.
"Draghi's going to make sure that the market doesn't fall apart. For gold, that's a positive because the move is reducing the risk of something really bad happening" with the use of economic stimulus to keep bond yields low, Reuters quoted Axel Merk, chief investment officer of Merk Funds.
Silver for December delivery closed at $35.101 an ounce, surging 41.1 cents or 1.2%. Silver traded between intraday prices of $34.655 and $35.170.
Platinum for January delivery jumped $31.00, or 1.8%, to $1,725.10 an ounce, ranging from $1,688.20 to $1,726.60.
Performing the best of the precious metals, palladium for December delivery shot up $16.85, or 2.6%, to $674.75 an ounce. Palladium traded between $654.10 and $677.05.
London Precious Metals Prices
London bullion prices moved higher as well. In contrasting London PM Fix prices:
Gold added $16.50, or 0.9%, to $1,791.75 an ounce,
Silver advanced 24.0 cents, or 0.7%, to $34.96 an ounce,
Platinum gained $15.00, or 0.9%, to $1,700.00 an ounce, and
Palladium rallied $10.00, or 1.5%, to $662.00 an ounce
U.S. Mint Bullion Coin Sales for October and YTD
American Eagle and Buffalo bullion coins on Thursday entered the sales charts for the first time in October.
American Silver Eagles were dazzling with U.S. Mint distributors ordering 1.233 million to push year-to-date sales over the 27 million milestone. Since the Eagles were introduced in 1986, the level was reached quicker only one time before, and that was during record-breaking year 2011 when annual sales stopped just short of 40 million. More pointed, the only years in which American Silver Eagles actually finished above 27 million in sales were 2009, 2010, 2011 and now 2012.
Also on Thursday, sales of bullion gold coins went up 9,500 ounces with splits of 7,000 ounces of American Gold Eagles and 2,500 ounces assigned to the American Buffalo gold piece.
The following grid offers the latest bullion sales figures as published by the U.S. Mint.
Sales of US Mint American Eagle and Buffalo Bullion Coins
Daily/October Sales
YTD 2012
$50 American Eagle Gold Coins
6,000
416,500
$25 American Eagle Gold Coins
0
61,000
$10 American Eagle Gold Coins
0
62,000
$5 American Eagle Gold Coins
10,000
260,000
$50 American Buffalo Gold Coins
2,500
99,000
American Eagle Silver Coins
1,233,000
27,028,000
Sales of America the Beautiful 5 Oz. Silver Bullion Coins
Daily/October Sales
All-Time Total
2012 El Yunque National Forest 5 oz. Silver Coins
0
17,900
2012 Chaco Culture National Historical Park 5 oz. Silver Coins
0
17,200
2012 Acadia National Park 5 oz. Silver Coins
0
18,000
2012 Hawai'i Volcanoes 5 oz. Silver Coins
0
10,400
2011 Olympic National Park 5 oz. Silver Coins
0
85,900
2011 Vicksburg National Military Park 5 oz. Silver Coins
0
39,500
2011 Chickasaw Park 5 oz. Silver Coins
0
29,700
TOTAL
0
218,600
Sales figures above are in the number of coins sold, not in the amount of ounces sold.