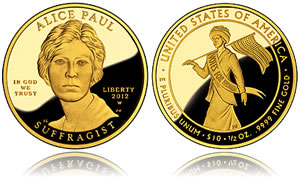 Tuesday morning the U.S. Mint updated its product schedule to include the starting sales date for the 2012 First Spouse Gold Coin honoring Alice Paul and the suffrage movement. Its release date is October 11, 2012 at noon ET.
When available, the collector proof and uncirculated quality coins featuring Alice Paul will be available from the U.S. Mint website at http://www.usmint.gov/catalog.
The First Spouse Gold Coin series debuted in 2007. Historically, at least three First Ladies would have already been honored with their coin's release by October. That did not happen this year due to delays resulting from production problems with some of the issues. The U.S. Mint is now stating that the remaining three coins will have "on-sale dates as soon as they are established." These one-half ounce, 24-karat gold coins include portraits and designs honoring:
Frances Cleveland (first term)
Caroline Harrison
Frances Cleveland (second term)
According to available information, there will be no household order limits and each 2012 First Spouse Gold Coin will have mintage limits of 13,000 with collector demand determining the ratio of proof coins to uncirculated coins. That is 2,000 fewer than issues from last year.
Sales have been steadily declining for the collector coins as precious metals prices have climbed. The first ones honoring Martha Washington were available for less than $430, and sold out with a 40,000 mintage. Prices can change weekly, but currently available coins honoring Lucretia Garfield and Lucy Hayes cost $1,054. Recently, the U.S. Mint has ended sales of certain designs well before their mintage limits were reached.
Alice Paul and the suffrage movement is portrayed on the inaugural 2012 First Spouse Gold Coin as President Chester Arthur's wife died before he became the 21st President of the United States. Normally, a depiction of Liberty is featured on the coin in such cases, but the authorizing law specifically stated to use a design incorporating the name and likeness of Alice Paul. Paul was born during the term of President Arthur and was instrumental in gaining women the right to vote upon the adoption of the 19th amendment.