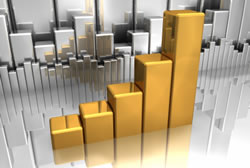 Most precious metals were higher Friday but lower on the week. Gold was up for both, although marginally as has been a pattern since the day following the Fed's stimulus announcement.
Friday marked the biggest daily change for gold this week with the December futures contract advancing $7.80, or 0.4%, to $1,778.00 an ounce on the Comex in New York. Gold traded between an intraday low of $1,769.10 and a high of $1,790.00. Gold prices this week edged up $5.30, or 0.3%.
"Logically, if the central banks of the world are printing more and more money, one can surmise that investors will want some store of wealth which cannot be reproduced to infinity, and at this point, gold and silver fit that bill," MarketWatch quoted Anthony Lazzara with Lido Isle Advisors.
On Wednesday, the Bank of Japan eased its monetary policy by adding 10 trillion yen to a fund that buys assets.
"Gold is one of the commodities that will benefit most from quantitative easing," Bloomberg quoted Kamal Naqvi, the head of commodities sales in Europe, Middle East and Africa for Credit Suisse Group AG in London. "Everyone is talking about gold at $2,000 an ounce and I still think we'll get to at least that."
Gold rallied $38.40 immediately after the Fed announced QE3 on September 13, but successive daily changes since have been modest. These include:
Friday's pick-up of $7.80,
a loss of $1.50 on Thursday,
an increase of 50 cents on Wednesday,
a pick-up of 60 cents on Tuesday,
a loss of $2.10 on Monday, and
a 60 cent gain one week ago Friday,
Gold is up 13.5% in 2012, making it the third best-performing precious metal.
Bullish Weekly Gold Surveys
Analysts, traders and bullion dealers continue with a bullish stance for gold prices next week, based on weekly precious metal surveys.
"Out of 34 participants, 21 responded this week. Of those, 15 see prices up, while four see prices down and two see prices sideways or unchanged," reports Kitco News in its gold survey.

"December gold has already risen smartly on the Comex division of the New York Mercantile Exchange since mid-August… Much of this was first on expectations of easing from the Federal Reserve, then further gains when policy-setters actually announced more accommodation…

Those who look for gold to soften next week point out that markets invariably run into some periods of consolidation or corrections, rather than citing anything they see as overtly bearish."
Bloomberg's weekly gold survey came in with participant results of 15 bullish, 7 bearish and 7 neutral.
Silver, Platinum and Palladium Futures
In other New York bullion futures on Friday:
Silver for December delivery settled at $34.638 an ounce, dipping 4.4 cents or 0.1%. Prices traded between an intraday low of $34.365 and a high of $35.260. Silver dipped 2 cents, or 0.1%, this week, but it has gained $6.72 or 24.1% this year.

Platinum for October delivery gained $13.70, or 0.8%, to $1,637.60 an ounce, ranging from $1,623.80 to $1,647.00. Platinum fell $76.10, or 4.4%, this week yet remains up this year by $232.70 or 16.6%.

Palladium for December delivery surged $10.45, or 1.6%, to $671.55 an ounce, moving between $661.15 and $678.45. Palladium lost $27.75, or 4.0%, this week. It has gained 2.3% in 2012.
A labor agreement with South African miners this week was attributed to pressuring platinum and palladium.
London Precious Metals
Bullion prices in London were higher Friday but mixed for the week. When comparing the most recent London PM fixing prices:
Gold gained $26.00, or 1.5%, to $1,784.50 an ounce,
Silver added 44.0 cents, or 1.3%, to $34.69 an ounce,
Platinum advanced $22.00, or 1.4%, to $1,642.00 an ounce, and
Palladium climbed $9.00, or 1.4%, to $672.00 an ounce
Gold gained 0.5% this week. Weekly losses in precious metals were 0.1% for silver, 3.2% for platinum and 4.3% for palladium.
U.S. Mint Bullion Coins
Mark it down as another boisterous week for United States Mint bullion coins. With five business days still left in September, sales of American Eagle gold coins surpassed totals from each of the two previous months and American Eagle silver coins rebounded from a rather poor prior week showing. In a breaking down of weekly bullion sales:
Gold coins combined to 18,500 ounces, although that was lower than the exceptionally high 26,500 ounces in the previous week. Splits were 15,500 ounces in 22-karat American Eagle gold coins and 3,000 ounces of 24-karat American Buffalo gold coins.

Silver coins combined to 1,149,000 ounces, one of the best weekly tallies of the year. The U.S. Mint sold just 512,000 ounces last week. Splits were 1,136,000 American Eagle silver coins and 13,500 ounces of the America the Beautiful 5 Ounce Silver Bullion Coin featuring Acadia National Park in the U.S. state of Maine. For the month-to-date, silver coin sales are at 2,340,500 ounces for 78.9% of the total sold in August.
The following grid offers the latest daily, weekly, September and year-to-date bullion sales as published by the U.S. Mint.
Sales of US Mint American Eagle and Buffalo Bullion Coins
Daily Gains
Prior Weekly
Weekly Gains
September Gains
YTD 2012
$50 American Eagle Gold Coins
6,500
18,000
14,000
42,000
389,500
$25 American Eagle Gold Coins
0
1,000
0
1,000
60,000
$10 American Eagle Gold Coins
0
0
2,000
2,000
60,000
$5 American Eagle Gold Coins
0
5,000
10,000
20,000
235,000
$50 American Buffalo Gold Coins
500
2,500
3,000
7,000
95,000
American Eagle Silver Coins
314,000
460,000
1,136,000
2,275,000
24,815,000
Sales of America the Beautiful 5 Oz. Silver Bullion Coins
Daily Gains
Prior Weekly
Weekly Gains
September Gains
All-Time Total
2012 El Yunque National Forest 5 oz. Silver Coins
0
0
0
0
16,700
2012 Chaco Culture National Historical Park 5 oz. Silver Coins
0
0
0
0
17,000
2012 Acadia National Park 5 oz. Silver Coins
200
0
2,700
2,700
17,800
2012 Hawai'i Volcanoes 5 oz. Silver Coins
0
10,400
0
10,400
10,400
2011 Olympic National Park 5 oz. Silver Coins
0
0
0
0
85,900
2011 Vicksburg National Military Park 5 oz. Silver Coins
0
0
0
0
39,500
2011 Chickasaw Park 5 oz. Silver Coins
0
0
0
0
29,700
TOTAL
200
10,400
2,700
13,100
217,000
Sales figures above are in the number of coins sold, not in the amount of ounces sold.
In a popular article this week, read about the declining premiums for U.S. silver coins as their melt values climb.