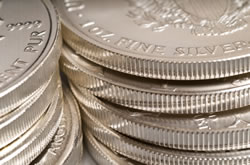 Gold was nearly unchanged in quiet trading Monday as investors await Fed Chairman Ben Bernanke's Congressional testimony on Tuesday morning.
"If he doesn't say anything against tightening, I believe it's going to increase the likelihood of stimulus. The gold market is going to attach itself to that and get appreciation," Reuters quoted Jeffrey Sica, chief investment officer of SICA Wealth.
Gold prices for August delivery dipped 40 cents to $1,591.60 an ounce on the Comex in New York, ranging between $1,577.20 and $1,594.60.
"The market wants to know what Bernanke is thinking," Frank Lesh, a trader at FuturePath Trading in Chicago, said in a telephone interview that was relayed on Bloomberg. "The question now is will there will be any hint of new stimulus measures to stem the slowdown."
Gold prices last week advanced 0.8%.
In other New York precious metals futures:
Falling for the first time in four sessions, silver prices for September delivery lost 4.8 cents, or 0.2%, to $27.321 an ounce. Silver traded from $26.860 to $27.425.

Platinum prices for October delivery ended at $1,417.30 an ounce, dropping $17.90 or 1.2%. The PGM metal moved between $1,414.80 and $1,441.40.

Palladium prices for September delivery declined $7.80, or 1.3%, to $577.85 an ounce. Prices traded from $575.50 to $586.00.
Last week, silver rose 1.7%, palladium added 0.9% and platinum fell 1.0%.
London Precious Metals
London precious metals were mostly lower. When comparing the latest London PM fixings:
Gold declined $5.75, or 0.4%, to $1,589.75 an ounce,
Silver fell 43.0 cents, or 1.6%, to $27.05 an ounce,
Platinum dipped $4.00, or 0.3%, to $1,420.00 an ounce, and
Palladium was unchanged at $581.00 an ounce
In bullion prices last week, gains included 0.5% for gold, 0.6% for silver and 0.7% for palladium. Platinum stepped back 1.8%.
U.S. Mint Bullion Coin Sales
Sales of U.S. Mint bullion coins climbed, but gains were relatively modest for a start to a new week.
Advancing the most were American Silver Eagles, up 97,000. The 99.9% fine silver coins often hit six digits on Mondays. U.S. Mint distributors also ordered 600 of the America the Beautiful 5 Ounce Silver Bullion Coins.
In gold bullion, sales of the one ounce America Gold Eagle rose 1,000.
The following are the latest daily, weekly, July and year-to-date bullion coin sales totals as published by the U.S. Mint.
Sale of US Mint American Eagle and Buffalo Bullion Coins
Daily Gains
July Gains
YTD 2012
$50 American Gold Eagle Coins
1,000
17,000
302,000
$25 American Gold Eagle Coins
0
0
56,000
$10 American Gold Eagle Coins
0
2,000
54,000
$5 American Gold Eagle Coins
0
0
175,000
$50 American Buffalo Gold Coin
0
1,500
76,500
American Eagle Silver Coin
97,000
1,003,000
18,395,000
Sales of America the Beautiful 5 Oz. Bullion Silver Coins
Daily Gains
July Gains
All-Time Total
2012 El Yunque National Forest 5 oz. Silver Bullion Coins
100
1,500
11,400
2012 Chaco Culture National Historical Park 5 oz. Silver Bullion Coins
500
2,700
5,900
2011 Olympic National Park 5 oz. Silver Bullion Coins
0
100
85,300
2011 Vicksburg National Military Park 5 oz. Silver Bullion Coins
0
0
38,600
2011 Chickasaw Park 5 oz. Silver Bullion Coins
0
0
28,900
TOTAL
600
4,300
170,100
The above U.S. Mint bullion coin sales are in coin totals, not the amount of ounces sold.