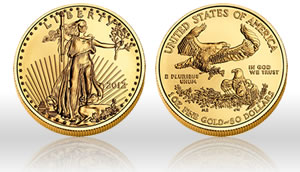 Gold maintained a seven-month high Friday after the Fed-fueled rally on the previous day made it possible for the yellow metal to advance for a fourth straight week.
Gold prices for December delivery rose 60.0 cents to $1,772.70 an ounce on the Comex in New York, its best settlement price since February 28. Gold traded as high as $1,780.20 an ounce. For the week, gold prices gained $32.20 or 1.9%.
"When multiple major central banks are coordinating their effort in printing more money and engaging in stimulus measures, that has to be overtly bullish for gold," Reuters quoted Adam Sarhan, chief executive of Sarhan Capital.
The Fed said Thursday that it would purchase $40 billion in mortgage-backed securities every month until the employment picture improved. The news bolstered inflation expectations, and gold is traditionally purchased as a hedge against inflation.
Gold Prices Expected Higher Next Week
Analysts, traders and bullion dealers remain bullish for gold prices next week, based on weekly precious metal surveys.
"In the Kitco News Gold Survey, out of 33 participants, 29 responded this week. Of those 29 participants, 24 see prices up, while one sees prices down, and four are neutral or see prices moving sideways," reports Kitco News.

"After the Fed announced it will buy $40 billion in mortgage-backed securities monthly until the labor market improves, most participants see that as supportive for the yellow metal…

Others noted that gold broke out of its recent trading range with this week's sharp move higher and they expect momentum will continue to push gold up, with a possibility of testing $1,800 an ounce shortly."
The weekly gold survey from Bloomberg had 20 participants voting bullish, 7 bearish and 2 neutral.
Gold continues as the third best performing precious metal this year. It has gained 13.1% in 2012.
Silver, Platinum and Palladium Futures
After soaring $1.49 on Thursday alone, on Friday silver for December delivery gave back 12.2 cents, or 0.4%, to close at $34.656 an ounce. The white metal reached an intraday high of $34.985. Silver gained 2.9% this week and has advanced 24.1% in 2012.
Platinum and palladium extended their winning streaks to ten straight sessions. Since August 31, platinum has jumped $210.00, or 14.0 percent, and palladium has rallied $82.90, or 13.4 percent. On Friday and for the week:
Platinum for October delivery surged $34.20, or 2.0%, to $1,713.70 an ounce, ranging from $1,680.00 to $1,716.50. Platinum this week soared 7.4%.

Palladium for December delivery advanced $10.30, or 1.5%, to $699.30 an ounce, trading between $686.25 and $705.80. Palladium climbed 6.8% this week.
The PGM metals were buoyed by the Fed's latest stimulus plan, but they were boosted more by labor unrest gripping South Africa's mines.
For the year, platinum is up 22.0% while palladium has gained 6.6%.
London Precious Metals
London precious metals surged Friday after missing the Fed-provoked gains on Thursday as London markets closed before the FOMC announced its stimulus plan. When comparing PM Fix prices:
Gold prices gained $42.25, or 2.4%, to $1,775.50 an ounce,
Silver shot up $1.71, or 5.2%, to $34.71 an ounce,
Platinum advanced $38.00, or 2.3%, to $1,697.00 an ounce, and
Palladium added $18.00, or 2.6%, to $702.00 an ounce
For the week, advances included gold at 2.7%, silver at 7.7%, platinum at 6.5% and palladium at 8.5%.
U.S. Mint Bullion Coins
Demand this week soared for U.S. Mint gold coins even as their sales were solid in the previous week. But given the recent gains in silver prices, it was a bit of a poor showing for the Mint's popular American Silver Eagle. In a breakdown of weekly bullion sales:
Gold coins combined to 26,500 ounces, more than doubling last week's 12,000 ounces. Splits were 24,000 ounces in 22-karat American Eagle gold coins and 2,500 ounces of 24-karat American Buffalo gold coins. With half of September in the history books, gold coin sales are at 33,500 ounces for 70% of the total sold in August.

Silver coins combined to 512,000 ounces. That is well off from the 679,000 ounces sold by the U.S. Mint in the previous week. Splits were 460,000 American Eagle silver coins and 52,000 ounces of America the Beautiful 5 Ounce Silver Bullion Coins — all coming from the newly released Hawaii Volcanoes coin. For the month-to-date, silver coin sales are at 1,191,000 ounces for 40% of the total sold in August.
The following grid offers the latest daily, weekly, September and year-to-date bullion sales as published by the U.S. Mint.
Sales of US Mint American Eagle and Buffalo Bullion Coins
Daily Gains
Prior Weekly
Weekly Gains
September Gains
YTD 2012
$50 American Eagle Gold Coins
9,000
10,000
18,000
28,000
375,500
$25 American Eagle Gold Coins
1,000
0
1,000
1,000
60,000
$10 American Eagle Gold Coins
0
0
0
0
58,000
$5 American Eagle Gold Coins
0
5,000
5,000
10,000
225,000
$50 American Buffalo Gold Coins
1,500
1,500
2,500
4,000
92,000
American Silver Eagle Coins
100,000
679,000
460,000
1,139,000
23,679,000
Sales of America the Beautiful 5 Oz. Silver Bullion Coins
Daily Gains
Prior Weekly
Weekly Gains
September Gains
All-Time Total
2012 El Yunque National Forest 5 oz. Silver Coins
0
0
0
0
16,700
2012 Chaco Culture National Historical Park 5 oz. Silver Coins
0
0
0
0
17,000
2012 Acadia National Park 5 oz. Silver Coins
0
0
0
0
15,100
2012 Hawai'i Volcanoes 5 oz. Silver Coins
2,500
0
10,400
10,400
10,400
2011 Olympic National Park 5 oz. Silver Coins
0
0
0
0
85,900
2011 Vicksburg National Military Park 5 oz. Silver Coins
0
0
0
0
39,500
2011 Chickasaw Park 5 oz. Silver Coins
0
0
0
0
29,700
TOTAL
2,500
0
10,400
10,400
214,300
All sales figures above are in the number of coins sold, not the amount of ounces sold.