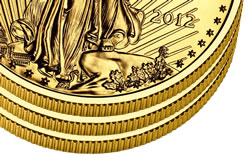 Gold edged lower for a second straight day in quiet trading Wednesday as investors paused ahead of Fed Chairman Ben Bernanke's speech in Jackson Hole, Wyoming on Friday.
Gold prices for December delivery declined $6.70, or 0.4%, to settle at $1,663.00 an ounce. The yellow metal traded between an intraday low of $1,654.40 and a high of $1,672.50.
"More profit-taking and chart consolidation were seen in the precious metals as the market place waits for an important speech by U.S. Federal Reserve Chairman Ben Bernanke on Friday," noted Jim Wyckoff in the Kitco Metals Roundup.

"The outside markets were in a mildly bearish posture for the precious metals Wednesday, as the U.S. dollar index was firmer and crude oil prices were weaker," added Wyckoff.
In other New York bullion futures prices:
Silver prices for December delivery slipped 3.8 cents, or 0.1%, to $30.837 an ounce. Intraday silver prices bracketed $30.525 and $30.940.

Platinum for October delivery was nearly flat at $1,520.30 an ounce, dropping 10.0 cents. Platinum traded between $1,510.00 and $1,525.90.

Palladium for December delivery fell $4.45, or 0.7%, to $636.50 an ounce, ranging from $631.25 to $643.00.
London Precious Metals
Precious metals in London declined as well. When comparing London PM Fix prices:
Gold shed $8.00, or 0.5%, to $1,660.00 an ounce,
Silver prices lost 8.0 cents, or 0.3%, to $30.73 an ounce,
Platinum declined $3.00, or 0.2%, to $1,518.00 an ounce, and
Palladium fell $6.00, or 0.9%, to $634.00 an ounce
U.S. Mint Bullion Coins
Breaking two days of silence, sales of U.S. Mint bullion coins surged Wednesday with ten of twelve individually sold products gaining ground. Broken out by ounces and type of coins, sales included:
399,000 ounces of 99.9% fine American Silver Eagles,
59,000 ounces of 99.9% fine America the Beautiful Five Ounce Silver Bullion Coins,
9,000 ounces of 22-karat American Gold Eagles, and
2,500 ounces of 24-karat American Gold Buffalo coins
The following grid offers the most recent daily, August and year-to-date bullion figures in number of coins sold, as published by the United States Mint.
Sales of US Mint American Eagle and Buffalo Bullion Coins
Daily Gains
August Gains
YTD 2012
$50 American Eagle Gold Coins
8,000
29,000
342,500
$25 American Eagle Gold Coins
1,000
2,000
58,000
$10 American Eagle Gold Coins
2,000
2,000
56,000
$5 American Eagle Gold Coins
0
20,000
210,000
$50 American Buffalo Gold Coins
2,500
9,000
88,000
American Silver Eagle Coins
399,000
2,520,000
22,190,000
In related coin news and as a result of higher gold prices over the last seven days, the U.S. Mint on Wednesday raised prices on all of its numismatic gold coins.
Sales of America the Beautiful 5 Oz. Silver Bullion Coins
Daily Gains
August Gains
All-Time Total
2012 El Yunque National Forest 5 oz. Silver Coins
2,700
3,300
16,500
2012 Chaco Culture National Historical Park 5 oz. Silver Coins
8,500
9,600
17,000
2012 Acadia National Park 5 oz. Silver Coins
0
5,200
15,100
2011 Olympic National Park 5 oz. Silver Coins
100
400
85,900
2011 Vicksburg National Military Park 5 oz. Silver Coins
300
400
39,500
2011 Chickasaw Park 5 oz. Silver Coins
200
300
29,700
TOTAL
11,800
19,200
203,700