Another $20 coin for $20 offer from the Royal Canadian Mint has been released, but it may not last long as all previous issues in the series sold out.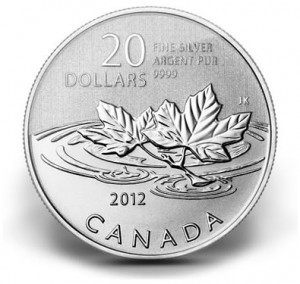 The commemorative $20 Farewell to the Penny Silver Coin is the fifth issue in the extremely popular series that features coins sold at face value. This latest one is paying tribute to the elimination of the Canadian penny.
Canadians may continue to use pennies indefinitely, but the Royal Canadian Mint will officially stop circulating them as of February 4, 2013, and it has already stopped penny production. Inflation and the 1.6 cent cost to produce each penny are two of the main reasons cited by the Mint for the elimination. Other countries that have already removed their lowest denomination include Australia, Norway, Switzerland and the United Kingdom.
Design of $20 Farewell to the Penny Silver Coin
On the reverse of the new $20 Farewell to the Penny Silver Coin is a striking design of two maple leaves that have been featured on the penny but with an added element of water. The leaves appear floating, as if being laid to rest, and causing a small ripple. It was designed by Jesse Koreck. Inscriptions include 20 DOLLARS, FINE SILVER, ARGENT PUR, 9999, 2012, CANADA and JK for the artist's initials.
An effigy of Queen Elizabeth, by Susanna Blunt, is on the obverse along with the inscriptions ELIZABETH II and D.G. REGINA.
These 99.99% fine silver coins have a weight of 7.96 g (a bit more than one-fourth ounce) and measure 27 mm in diameter. Their edges are serrated. Each one is encapsulated and packaged within a clear vinyl pouch attached to a non-serialized certificate booklet that describes the coin, design, and the collection.
$20 for $20 Mintages
The $20 Farewell to the Penny Silver Coin's mintage has been limited to 250,000 with a limitation of three coins per household. Similar restrictions applied to all the previous issues in the series, except for the first one, which had a mintage of 200,000 and did not allow orders outside of Canada. Every coin in the "Exchange $20 for $20" program has sold out, often occurring around the one month period.
Previous $20 Silver Coin Issues
Those earlier products were the $20 Maple Leaf and $20 Canoe silver coins in 2011 as well as the $20 Polar Bear and $20 Queen's Diamond Jubilee silver coins in 2012. Following the Farewell to the Penny strike will be another design coming in November that celebrates the holiday season.
Order from Royal Canadian Mint
Orders for the commemorative Farewell to the Penny Silver Coin may be placed via the Royal Canadian Mint's website at www.mint.ca for $20 CAD each plus shipping and handling.