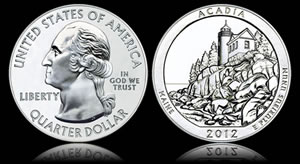 Investors and collectors appear fond of 2012 Acadia National Park Five Ounce Silver Coins, the thirteenth issued within the America the Beautiful Five Ounce Silver Coin series.
Both investment-grade and collectible silver coins are moving faster with sales of Acadia bullion coins higher and Acadia uncirculated coins starting stronger than the prior 2012-dated issues.
Collectible 2012-P Acadia National Park Five Ounce Silver Uncirculated Coins were just released Monday, August 13, 2012. United States Mint sales figures have their one-week total at 6,552. In contrast, debut unit sales for the immediate previous 2012-P Chaco Culture uncirculated coin were 6,365 and the 2012-P El Yunque uncirculated coin were 6,514.
As for the Acadia bullion coin that launched on July 30, 2012, sales on Monday jumped another 4,100 for a new total of 15,100. That is well above the companion 2012 Chaco Culture bullion coin at 8,500 and the 2012 El Yunque bullion coin at 13,800.
For reference, the following table offers current sales figures for the bullion and uncirculated silver coins currently available from the U.S. Mint.
Sales of America the Beautiful 5 Oz. Silver Coins
ATB Silver Coins in Order of Release
Version
Investment-Grade Bullion (sales/mintage)
Collector Uncirculated (sales/mintage)
2011 Gettysburg National Military Park (Pennsylvania)
126,700/126,700
22,877/35,000
2011 Glacier National Park (Montana)
126,700/126,700
19,149/35,000
2011 Olympic National Park (Washington)
85,800/126,700
16,738/35,000
2011 Vicksburg National Military Park (Mississippi)
39,200/126,700
16,858/35,000
2011 Chickasaw National Recreation Area (Oklahoma)
29,500/126,700
15,112/35,000
2012 El Yunque National Forest (Puerto Rico)
13,800/To Demand
12,427/25,000
2012 Chaco Culture National Historic Park (New Mexico)
8,500/To Demand
8,910/25,000
2012 Acadia National Park (Maine)
15,100/To Demand
6,552/25,000
All above sales figures are as of Monday, August 20, 2012.
Bullion coins are sold by the U.S. Mint through its network of distributors for a small amount over the current price of silver each contains. Collectible uncirculated coins are sold directly by the U.S. Mint to the public. Collectors will find them listed on the Mint website at www.usmint.gov for $204.95 each.
Forthcoming 2012-dated silver coins include those honoring Hawai'i Volcanoes National Park in Hawaii and Denali National Park in Alaska.