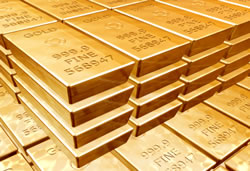 Gold was near unchanged Friday as silver dipped, which assured weekly losses for each that settled to a matching 0.2%.
It was PGM's that stole the show among precious metals, scoring hefty increases on Friday to bolster weekly gains of 5.2% for platinum and 3.9% for palladium. The metals were buoyed by speculation of tightening inventories as violence escalated in a South African platinum mine.
Gold for December delivery squeaked out a 20 cent gain on Friday to close at $1,619.40 an ounce. The yellow metal traded between an intraday low of $1,613.30 and a high of $1,623.00. Gold has tended to sway on Fed or ECB stimulus-related news of the day.
"Gold was buttressed initially by Merkel's supportive [European Central Bank]-related comments, but as usual the effect of political rhetoric is fleeting," MarketWatch quoted Sonny Tahiliani, managing director at MacroMoves, a New York-based consultancy.

"Until we see some real stimulus or [quantitative easing] in western economies materialize, I believe we'll see continued volatility," he said.
Analysts and traders lean positive for gold next week, based on recent surveys. Bloomberg's weekly survey shows participant results of 14 bullish, 6 bearish and 6 neutral. The survey released by Kitco News was a bit more cautious.
"In the Kitco News Gold Survey, out of 33 participants, 28 responded this week. Of those 28 participants, 16 see prices up, while three see prices down, and nine are neutral or see prices moving sideways," reports Kitco.

"Sources who see higher gold prices next week said they expect gold to start to get ready to break out of its August doldrums and try to retest the upper end of resistance at $1,626-30…

Those who see prices holding in a range said given the time frame, there's little reason for gold to break out of its trading range…"
For the year to date, gold has gained 3.4%. It had been the best performing precious metal for weeks until platinum's breakout in the last few days.
Silver, Platinum and Palladium Futures
In other New York precious metals on Friday:
The only precious metal lower on the day, silver for December delivery eased 21.0 cents, or 0.7%, to $28.002 an ounce. Silver prices ranged between intraday levels of $27.96 and $28.29.

Platinum for October delivery surged $37.90, or 2.6%, to $1,473.10 an ounce, trading between $1,435.50 and $1,475.50.

Palladium for September delivery soared $21.65, or 3.7%, to $605.10 an ounce, trading between $582.90 and $608.80.
London Precious Metals
Precious metals in London scored across the board gains on Friday. When comparing London PM Fix prices:
Gold added $10.25, or 0.6%, to $1,614.75 an ounce,
Silver jumped 36.0 cents, or 1.3%, to $28.20 an ounce,
Platinum rallied $55.00, or 3.9%, to $1,455.00 an ounce, and
Palladium climbed $13.00, or 2.2%, to $592.00 an ounce
For the week, advances included 1.1% for silver, 4.0% for platinum and 2.4% for palladium. Gold was the lone precious metal down with its loss of 0.2%.
U.S. Mint Bullion Coin Sales
It was a slower sales week for U.S. Mint bullion products with gold coins rising only on a single day and silver coins advancing in two.
For the week, coin sales included:
Just 3,000 ounces of gold bullion coins against the prior weekly gain of 7,000 ounces. One-ounce 22-karat American Eagle gold coins were the sole gainer.

670,000 ounces of silver bullion coins against the previous week's 742,000 ounces. American Silver Eagles advanced on Monday and Friday with combined sales of 668,500. United States Mint distributors ordered 300 of the America the Beautiful 5 Ounce Silver Coins on Friday, the coins' only advance this week.
The latest daily, weekly, August and year-to-date sales for U.S. Mint bullion products follow.
US Mint American Eagle and Buffalo Bullion Coin Sales
Daily Gains
Prior Week
Weekly Gain
August Gains
YTD 2012
$50 American Gold Eagle Coins
3,000
6,000
3,000
11,500
325,000
$25 American Gold Eagle Coins
0
0
0
0
56,000
$10 American Gold Eagle Coins
0
0
0
0
54,000
$5 American Gold Eagle Coins
0
0
0
5,000
195,000
$50 American Buffalo Gold Coins
0
1,000
0
3,500
82,500
American Silver Eagle Coins
193,500
735,000
668,500
1,583,500
21,253,500
America the Beautiful 5 Oz. Silver Bullion Coin Sales
Daily Gains
Prior Week
Weekly Gain
August Gains
All-Time Total
2012 El Yunque National Forest 5 oz. Silver Coins
100
300
100
500
13,700
2012 Chaco Culture National Historical Park 5 oz. Silver Coins
200
300
200
600
8,000
2012 Acadia National Park 5 oz. Silver Coins
0
800
0
1,100
11,000
2011 Olympic National Park 5 oz. Silver Coins
0
0
0
0
85,500
2011 Vicksburg National Military Park 5 oz. Silver Coins
0
0
0
0
39,100
2011 Chickasaw Park 5 oz. Silver Coins
0
0
0
0
29,400
TOTAL
300
1,400
300
2,200
186,700
Above U.S. Mint bullion coin sales are in coin totals, not in amount of ounces sold.
In major U.S. Mint coin news this week, the bureau's new Coin and Currency Set sales reached 24,130. Officially named the Making American History Coin and Currency Set, it includes a 2012-S Proof American Silver Eagle and a series 2009 $5 bill with a beginning serial number of "150." The joint U.S. Mint and Bureau of Engraving and Printing product celebrates the two agencies anniversaries.
Also, the U.S. Mint on Monday released its Acadia 5 oz. Silver Coin for $204.95. It is the third issue this year in the Mint's collectible America the Beautiful Five Ounce Silver Uncirculated Coin series.