The third of the 2012 collector five ounce silver coins and another circulating quality Presidential $1 coin, featuring the 23rd President, get released next week by the United States Mint.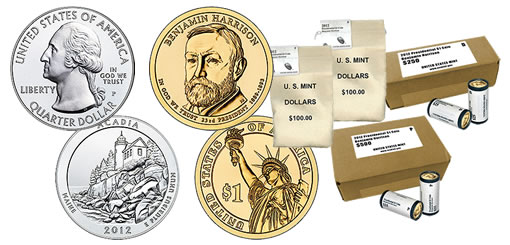 Monday, August 13, is the release date for the three-inch diameter, 99.9% pure silver 2012-P Acadia National Park Five Ounce Silver Uncirculated Coin. Pricing remains the same as other available issues at $204.95 per piece. This latest strike represents the national park on the coast of Maine and is the 13th commemorative in the America the Beautiful Five Ounce Silver Uncirculated Coin series. Its mintage limit is 25,000.
The U.S. Mint product page, located here, is one way for collectors to place an order upon the coin's launch.
On Thursday, August 16, collectors can buy 2012 Benjamin Harrison Presidential $1 coins in bags, rolls, and boxes. These strikes will not get minted in quantities to enter public circulation via the Federal Reserve Banking System, but have instead been produced to meet collector demand.
Once the Harrison Presidential dollars go on sale, orders for them and all Harrison related coins may be placed through this online product page. Buyers will have the choice of bags, rolls, and boxes from either the U.S. Mint facility in Philadelphia or Denver. 25-coin rolls are $32.95 each and 100-coin bags are $111.95 each. The 250-coin boxes are $275.95 and the 500-coin boxes are $550.95.
When the product release dates arrive, availability will start at 12:00 noon ET. In addition to online orders, collectors may call the U.S. Mint's toll-free phone line at 1-800-USA-MINT to make purchases.
Below is a list of the next few items on the United States Mint schedule of products for August and September 2012.
August – September Upcoming US Mint Numismatic Product Releases
| Release Date | U.S. Mint 2012 Numismatic Product | Product Price |
| --- | --- | --- |
| 8/13/2012 | Acadia National Park 5 Ounce Silver Uncirculated Coin | $204.95 |
| 8/16/2012 | Benjamin Harrison Presidential Dollar 25-coin Rolls, Philadelphia | $32.95 |
| 8/16/2012 | Benjamin Harrison Presidential Dollar 25-coin Rolls, Denver | $32.95 |
| 8/16/2012 | Harrison Presidential $1 100-coin Bags, Philadelphia | $111.95 |
| 8/16/2012 | Harrison Presidential $1 100-coin Bags, Denver | $111.95 |
| 8/16/2012 | Harrison Presidential $1 250-coin Boxes, Philadelphia | $275.95 |
| 8/16/2012 | Harrison Presidential $1 250-coin Boxes, Denver | $275.95 |
| 8/16/2012 | Harrison Presidential $1 500-coin Boxes, Philadelphia | $550.95 |
| 8/16/2012 | Harrison Presidential $1 500-coin Boxes, Denver | $550.95 |
| 8/27/2012 | Hawaii Volcanoes National Park Quarter Two-Roll Sets | $32.95 |
| 8/27/2012 | Hawaii Volcanoes Quarter 100-coin Bags, Philadelphia | $34.95 |
| 8/27/2012 | Hawaii Volcanoes Quarter 100-coin Bags, Denver | $34.95 |
| 09/04/2012 | Volcano Quarters Three-Coin Set | $9.95 |
| 09/06/2012 | 2012 Annual Uncirculated Dollar Coin Set | TBD |
| 09/24/2012 | Hawaii Volcanoes National Park 5 Ounce Silver Uncirculated Coin | $204.95 |
| TBD | Alice Paul First Spouse Gold Proof | TBD |
| TBD | Alice Paul First Spouse Gold Uncirculated | TBD |