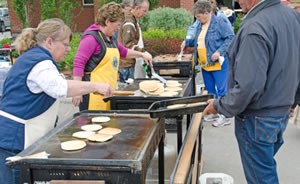 A 2017-dated silver dollar commemorating the 100th Anniversary of Lions Clubs International is one step closer to reality.
On Thursday, July 26, 2012, the Senate passed the Lions Clubs International Century of Service Commemorative Coin Act by Unanimous Consent.
The bill, numbered S.1299, was introduced by Senator Jerry Moran (R-KS) on June 29, 2011 as a companion to an earlier House version, numbered H.R. 2139, which was introduced by Congressman Peter Roskam (R-IL6).
For either bill to become law, one must pass in both the Senate and House and get signed by the President. Odds seem high for eventual Congressional passage given that the House version enjoys bipartisan support with 289 cosponsors.
Mintages and Commemorative Coin Specifications
Each of the bills calls for up to 400,000 silver dollars in proof and uncirculated collector qualities. The U.S. Mint would be tasked with producing the coin and offering it for sale beginning on January 1, 2017.
Specifications for the Lions silver dollar do not stray from that of a modern silver commemorative coin, including a composition of 90% silver, weight of 26.72 grams and a diameter of 1.5 inches.
Designs would be emblematic of the centennial of the Lions Club International, with stated inscriptions of the date and the words LIBERTY, IN GOD WE TRUST, UNITED STATES OF AMERICA, and E PLURIBUS UNUM.
Specific designs would be drawn up by U.S. Mint selected artists, reviewed by the Citizens Coinage Advisory Committee and selected by the Treasury Secretary after consulting with the Commission of Fine Arts and the LCI Special Centennial Planning Committee.
Commemorative Coin Surcharges
Sales of each Lions Clubs International Commemorative Coin would include a $10 surcharge paid to the Lions Clubs International Foundation for:
furthering its programs for the blind and visually impaired in the United States and abroad;
investing in adaptive technologies for the disabled; and
investing in youth and those affected by a major disaster
About Lions Clubs International
Founded in 1917 by Melvin Jones, Lions Clubs International (www.lionsclubs.org) is the world's largest service club organization. With over 1.35 million members and more than 45,000 clubs around the world, LCI empowers volunteers to serve their communities, meet humanitarian needs, encourage peace and promote international understanding. The organization celebrates its 100th anniversary on June 7, 2017.