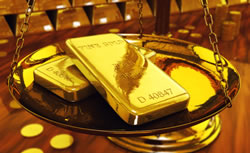 Gold advanced for a second session Thursday and closed to a more than three-week high at just above $1,615 an ounce.
Gains were supported by a weaker U.S. dollar as ECB President Mario Draghi said policy makers will do whatever was necessary to protect the euro zone.
"Prices are up today because of what we heard from Draghi and as investors are getting more confident that some form of easing will be announced in U.S.," Jeffrey Christian, the managing director at New York-based CPM Group Inc., said in a telephone interview that was relayed on Bloomberg.
Gold prices for August delivery added $7.00, or 0.4%, to settle at $1,615.10 an ounce on the Comex in New York. It was the best settlement price for gold since July 3. It traded between intraday levels of $1,600.20 and $1,621.50. The precious metal has gained 2.5% since Tuesday.
In other New York precious metals futures:
Silver prices for September delivery was off 2.0 cents, or 0.1%, to $27.446 an ounce. Silver's low and high on the day was $27.210 and $27.780.

Platinum prices for October delivery closed at $1,405.60 an ounce, rising $6.20 or 0.4%. Platinum ranged from $1,396.20 to $1,415.60.

Palladium prices for September delivery climbed $4.65, or 0.8%, to $569.90 an ounce, trading between $564.40 and $574.00.
London Precious Metals
Earlier fixed London precious metals were all higher for the first time this week. When comparing the London PM Fix prices:
Gold gained $17.00, or 1.1%, to $1,618.00 an ounce,
Silver jumped 70.0 cents, or 2.6%, to $27.81 an ounce,
Platinum advanced $12.00, or 0.9%, to $1,408.00 an ounce, and
Palladium added $5.00, or 0.9%, to $571.00 an ounce
U.S. Mint Bullion Coin Sales
Bullion gains were seen across major U.S. Mint coins Thursday. The bureau's one-ounce American Gold Eagle added 1,000 and the one-ounce American Silver Eagle rose 100,000. The amounts were half of the previous day's totals.
The following are the latest daily, July and year-to-date bullion coin sales totals as published by the U.S. Mint.
US Mint American Eagle and Buffalo Bullion Coin Sales
Daily Gains
July Gains
YTD 2012
$50 American Gold Eagle Coins
1,000
22,000
307,000
$25 American Gold Eagle Coins
0
0
56,000
$10 American Gold Eagle Coins
0
2,000
54,000
$5 American Gold Eagle Coins
0
0
175,000
$50 American Buffalo Gold Coins
0
2,500
77,500
American Eagle Silver Coins
100,000
1,768,000
19,160,000
America the Beautiful 5 Oz. Bullion Silver Coin Sales
Daily Gains
July Gains
All-Time Total
2012 El Yunque National Forest 5 oz. Silver Coins
0
1,700
11,600
2012 Chaco Culture National Historical Park 5 oz. Silver Coins
0
2,700
5,900
2011 Olympic National Park 5 oz. Silver Coins
0
100
85,300
2011 Vicksburg National Military Park 5 oz. Silver Coins
0
200
38,800
2011 Chickasaw Park 5 oz. Silver Coins
0
200
31,100
TOTAL
0
4,900
170,700
The above U.S. Mint bullion coin sales are in coin totals, not the amount of ounces sold.