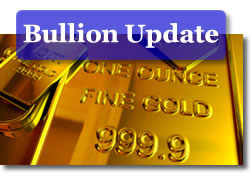 Gold, silver, platinum, and palladium soared Friday on news that European leaders came to an agreement that surprised investors and emboldened world markets.
Gold had appeared ready to park in the red for the week and month, but instead jumped ahead for both and significantly trimmed its quarterly loss to 4.0%. Other quarterly losses in precious metals were sharply higher to the tune of 15.0% for silver, 11.7% for platinum and 10.6% for palladium.
In closing Friday, gold prices for August delivery leapt $53.80, or 3.5%, to $1,604.20 an ounce on the Comex in New York. The yellow metal ranged between an intraday low of $1,551.30 and a high of $1,607.80.
For the week and month of June, gold advanced 2.4% and 2.6%, respectively. It is also up 2.4% for the year.
"The gold rally is likely to continue because once again we held well above the $1,525 key support level, we've had rapid short-covering and now we have some physical demand. I don't think the market will press prices significantly at least in the near term," Reuters quoted James Steel, chief commodity analyst at HSBC.
Many market-watchers and analysts agree with Steel's position on near term bullion prices.
Gold Prices Expected Higher Next Week
Bloomberg's survey of gold analysts turned in a bullish assessment for a sixth week. Sixteen participants forecast higher prices in the coming days as compared to 10 who are bullish and 5 neutral. Kitco News' survey tilted heavily in the same direction.
"In the Kitco News Gold Survey, out of 33 participants, 24 responded this week. Of those 24 participants, 14 see prices up, while four see prices down, and six are neutral," reports Kitco.

"Several others said the move made by officials during the EU Summit flagged the beginning of more accommodative monetary policy out of Europe which is ultimately bullish for gold…

Not everyone thought Friday's rally would have legs, however. Those who were bearish on prices or were neutral in their views said while gold might try to take a stab over the $1,600 level, the metal doesn't have enough gumption to push through the heady resistance at the $1,640 area."
Silver, Platinum and Palladium Futures
In other New York precious metals futures:
Silver prices for September delivery surged $1.321, or 5.0%, to $27.612 an ounce. The white metal ranged from $26.265 to $27.915. Silver soared 3.6% for the week to soften June's decline to 0.5%. The white metal has fallen 1.1% in 2012.

Platinum prices for October delivery settled to $1,452.40 an ounce, jumping $63.10 or 4.5%. Like gold, platinum gained on the week (+1.5%), month (+2.5%) and remains higher for the year (+3.4%).

Palladium prices for September delivery advanced $20.65, or 3.7%, to $584.55 an ounce. Palladium stands as the sole precious metal to fall on the week (-3.7%), in June (-4.8%) and for the year (-10.9%)
London Precious Metals
Precious metals in London were also higher Friday. When comparing the latest London PM fixings:
Gold gained $40.00, or 2.6%, to $1,598.50 an ounce,
Silver added 27.0 cents, or 1.0%, to $27.08 an ounce,
Platinum climbed $26.00, or 1.9%, to $1,428.00 an ounce, and
Palladium advanced $2.00, or 0.3%, to $578.00 an ounce
The following grid offers weekly, monthly, quarterly, and year-to-date changes.
London Precious Metals Gains / Losses
Weekly
June
2nd Quarter
YTD 2012
Silver
1.0%
-3.6%
-16.5%
-3.9%
Gold
2.1%
2.6%
-3.8%
1.5%
Platinum
-0.5%
1.6%
-12.9%
3.4%
Palladium
-4.9%
-5.4%
-11.2%
-9.1%
U.S. Mint Bullion Coin Sales
American bullion coins started this week with several boisterous gains but ended it on a whimper with zero sales reported by the U.S. Mint for Thursday and Friday. Since the bureau has not officially closed out June, there is a chance updated figures may be published on Monday. As it stands now, U.S. Mint distributors this week ordered:
14,000 troy ounces of gold bullion coins in the form of 24-karat Gold Buffalo and 22-karat Gold Eagles — that compares to 24,000 ounces sold during the previous week.
535,000 troy ounces of silver bullion coins in the form of 99.9% fine Silver Eagles and America the Beautiful 5 Ounce Silver Coins — that compares to 720,000 ounces from the prior week.
The following are the latest daily, June and year-to-date bullion coin sales totals as published by the U.S. Mint.
Sales of US Mint American Eagle and Buffalo Bullion Coins
Daily Gains
Prior Weekly
Weekly Gains
June Gains
YTD 2012
$50 American Gold Eagle Coin
0
19,500
9,500
49,500
279,500
$25 American Gold Eagle Coin
0
0
1,000
2,000
56,000
$10 American Gold Eagle Coin
0
2,000
2,000
6,000
52,000
$5 American Gold Eagle Coin
0
10,000
10,000
25,000
175,000
$50 American Buffalo Gold Coins
0
3,000
2,500
10,000
75,000
American Silver Eagle Coins
0
713,500
518,000
2,593,000
17,127,000
In coin news of the week, the U.S. Mint on Thursday released its 2012-W Uncirculated Gold Eagle. The gold piece is a collector coin that closely resembles the bullion American Gold Eagle.
America the Beautiful 5 Oz. Bullion Silver Coin Sales
Daily Gains
Prior Weekly
Weekly Gains
June Gains
All-Time Total
2012 El Yunque National Forest 5 oz. Silver Bullion Coins
0
1,300
200
4,500
9,900
2012 Chaco Culture National Historical Park 5 oz. Silver Bullion Coins
0
0
3,200
3,200
3,200
2011 Olympic National Park 5 oz. Silver Bullion Coins
0
0
0
0
85,200
2011 Vicksburg National Military Park 5 oz. Silver Bullion Coins
0
0
0
200
38,600
2011 Chickasaw Park 5 oz. Silver Bullion Coins
0
0
0
0
28,900
TOTAL
0
1,300
3,400
7,900
165,800
All United States Mint bullion coin figures in the above tables are in coin totals, not the amount of ounces sold.