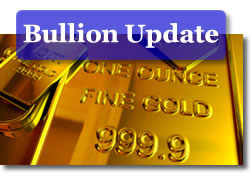 Gold ended slightly higher for a fourth straight session on Wednesday with safe-haven demand and hopes for more Fed stimulus again given the credit.
"Deepening crisis in the euro zone and slowing growth in the U.S. and internationally has raised the prospect of further QE," MarketWatch relays comments from Mark O'Byrne, executive director at GoldCore. Further QE is "gold bullish" and should see gold rise above its nominal record high above $1,900 an ounce, "possibly as soon as before the end of 2012."
Gold prices for August delivery climbed $5.60, or 0.3%, to settle at $1,619.40 an ounce on the Comex in New York. Intraday prices ranged from a low of $1,607.00 to a high of $1,626.00. Some market watchers have voiced concern about gold's inability to rise above the $1,640 an ounce mark.
"Right now there seems to be a disconnect with gold and the euro, and my fear is that if we don't get above $1,640, we can have from a $50 to $70 selloff in the coming days," Reuters quoted Anthony Neglia, president of Tower Trading and a COMEX gold options floor trader.
In other precious metals settlements on Wednesday:
Virtually flat, silver prices for July delivery shed less than a cent to $28.941 an ounce. The white metal moved between $28.700 and $29.095.

Platinum prices for July delivery closed at $1,466.80 an ounce, advancing $12.40 or 0.9%. The PGM metal traded between $1,445.90 and $1,469.90.

Palladium prices for September delivery lost 95.0 cents, or 0.2%, to $623.30 an ounce, ranging from $618.00 to $629.00.
London Precious Metal
Most precious metals in London logged daily gains of 1% or more. When comparing the latest London PM fixings:
Gold tacked on $16.00, or 1.0%, to $1,619.50 an ounce,
Silver gained 33.0 cents, or 1.2%, to $28.87 an ounce,
Platinum added $17.00, or 1.2%, to $1,460.00 an ounce, and
Matching the modest gains from the prior day, palladium edged up $1.00, or 0.2%, to $625.00 an ounce
Sales of U.S. Mint Bullion Coins
In a relative rarity like what happened on Monday, Wednesday sales of U.S. Mint bullion coins were wide-ranging with gains for the American Gold Eagle, American Silver Eagle, American Gold Buffalo and in the America the Beautiful 5 Ounce series.
In another notable, the bureau's most popular bullion products are maintaining an unusual consecutive sales streak with the Silver Eagle rising on seven straight business days and the one-ounce Gold Eagle up for five.
The following are the latest daily, June and year-to-date bullion coin sales totals as published by the U.S. Mint.
Sales of US Mint American Eagle and Buffalo Bullion Coins
Daily Gains
June Gains
YTD 2012
American Gold Eagle Coins (1 oz.)
2,500
17,500
247,500
American Gold Eagle Coins (1/2 oz.)
0
1,000
55,000
American Gold Eagle Coins (1/4 oz.)
0
0
46,000
American Gold Eagle Coins (1/10 oz.)
0
5,000
155,000
American Gold Buffalo Coins (1 oz.)
1,500
3,500
68,500
American Silver Eagle Coins
200,000
1,121,500
15,655,500
Sales of America the Beautiful 5 Oz. Silver Bullion Coins
Daily Gains
June Gains
All-Time Total
2012 El Yunque National Forest 5 oz. Silver Bullion Coins
1,000
2,500
7,900
2011 Olympic National Park 5 oz. Silver Bullion Coins
0
0
85,200
2011 Vicksburg National Military Park 5 oz. Silver Bullion Coins
0
200
38,600
2011 Chickasaw Park 5 oz. Silver Bullion Coins
0
0
28,900
TOTAL
1,000
2,700
161,600
U.S. Mint figures above are in coin totals, not the amount of ounces sold.