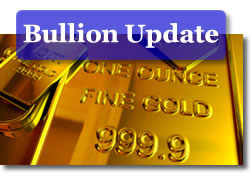 Gold rose slightly Tuesday and for the second time in three sessions. Gold prices for August delivery climbed $3.00, or 0.2%, to $1,616.90 an ounce on the Comex in New York.
"The unresolved euro crisis and deepening of the crisis, with it spreading like wildfire from Greece to Spain, means that gold will continue to be well supported at these levels — between $1,530 and $1,630 per ounce," MarketWatch quoted Mark O'Byrne, executive director at GoldCore.
Gold traded between an intraday low of $1,612.50 and a high of $1,624.80.
"There are two key events traders are awaiting this week: a European Central Bank officials meeting on Wednesday and U.S. Federal Reserve Chairman Ben Bernanke's testimony before U.S. lawmakers on Thursday," notes Jim Wyckoff of Kitco News.

"The market place is wondering if the U.S. and/or EU will hint of further easing of their monetary policies this week, in the wake of their recent weaker economic data."
In other precious metals settlements on Tuesday:
Silver prices for July delivery rose 39.8 cents, or 1.4%, to $28.405 an ounce. Prices on the day were between $28.080 and $28.510.

Platinum prices for July delivery advanced $13.20, or 0.9%, to $1,440.50 an ounce, ranging from $1,428.80 to $1,448.80.

Palladium prices for September delivery settled up $5.90, or 1.0%, to $619.80 an ounce, trading between $611.30 and $623.70.
London Precious Metal
UK markets remained closed for a second day in holiday observance. London precious metals fixings were unchanged as a result, with those of Friday still the latest.
Gold at $1,606.00 an ounce,
Silver at $27.38 an ounce,
Platinum at $1,407.00 an ounce, and
Palladium at $607.00 an ounce
U.S. Mint Bullion Coin Sales
Sales on Tuesday advanced modestly for U.S. Mint bullion silver coins. It was the first reported gains for any of the bureau's bullion coins this month.
Advancing the most were American Silver Eagles with daily sales of 115,000. Following behind were increases of 800 for the 2012 El Yunque America the Beautiful 5 oz. Silver Coin and 200 for the 2011 Vicksburg America the Beautiful 5 oz. Silver Coin.
The following are the daily, June and year-to-date bullion coin sales totals as published by the U.S. Mint.
U.S. Mint American Eagle and Buffalo Bullion Coin Sales
Daily Gains
June Gains
YTD 2012
American Eagle Gold Coin (1 oz.)
0
0
230,000
American Eagle Gold Coin (1/2 oz.)
0
0
54,000
American Eagle Gold Coin (1/4 oz.)
0
0
46,000
American Eagle Gold Coin (1/10 oz.)
0
0
150,000
American Gold Buffalo Coin (1 oz.)
0
0
65,000
American Eagle Silver Coins
115,000
115,000
14,649,000
America the Beautiful 5 Oz. Silver Bullion Coin Sales
Prior Weekly
Daily Gains
June Gains
All-Time Total
2012 El Yunque National Forest 5 oz. Silver Coins
5,400
800
800
6,200
2011 Olympic National Park 5 oz. Silver Coins
100
0
0
85,200
2011 Vicksburg National Military Park 5 oz. Silver Coins
100
200
200
38,600
2011 Chickasaw Park 5 oz. Silver Coins
0
0
0
28,900
TOTAL
5,600
1,000
1,000
158,900
U.S. Mint figures above are in coin totals, not the amount of ounces sold.