This week the Perth Mint introduced its new Australian Map Shaped Coin Series with the release of a limited edition silver coin featuring a kookaburra on its reverse.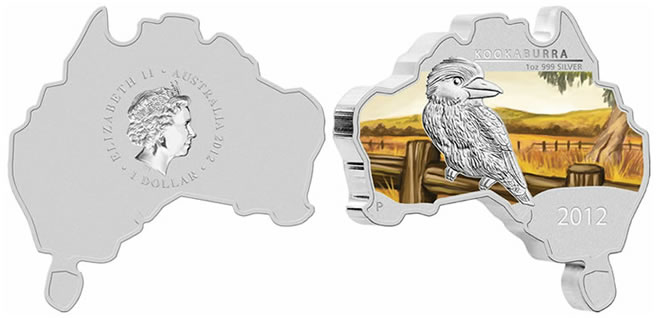 According to the Mint, up to 6,000 of the 2012 Australian Map Shaped Kookaburra Silver Coins will be struck. Other iconic Australian wildlife will be depicted on future issues in the series.
"To craft a coin in the distinctive shape of Australia requires the use of purpose-built tooling, hand finished dies and advanced minting techniques," reports the Perth Mint.
The reverse, designed by Ing Ing Jong, showcases the bird sitting on a fence with a colorful backdrop of an outback scene. Inscriptions include, "KOOKABURRA," "1 oz 999 SILVER," "2012" and the historic Perth Mint "P" mint mark indicating its origin.
Its obverse has a small rendition of the familiar Ian Rank-Broadley effigy of Queen Elizabeth II and the inscriptions, "ELIZABETH II," "AUSTRALIA 2012," and "1 DOLLAR."
Each Australian Map Shaped Kookaburra coin is legal tender, and is composed from one ounce of 99.9% pure silver to a diameter of 40.60 mm and a thickness of 4.52 mm. Its weight is 31.135 grams or 1 troy ounce.
Straight from the Perth Mint website, interested collectors may purchase the inaugural issue of the Australian Map Shaped Coin Series for AUS $102.27. It should be noted, pricing does depend on movements of the silver market.
Orders will arrive in a colorful shipper with the coin in a black display case accompanied by a numbered Certificate of Authenticity.
Ad Banner to Perth Mint Website

See additional Perth Mint product highlights from this site's guide of Australian coins.
About the Perth Mint
The Perth Mint (www.perthmint.com.au) is the official issuer of the Australian Federal Government's Gold and Silver Bullion Coin Program. It was Australia's third branch of Britain's Royal Mint when it opened in 1899 (the others being the Sydney Mint and the Melbourne Mint, which are both now closed).
Ownership of the Perth Mint was transferred to the State Government of Western Australia in 1970 who still operates the facility today.