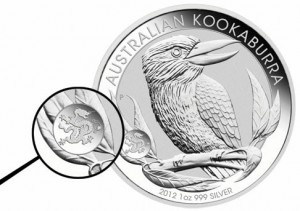 A new version of the 2012 Kookaburra Silver Bullion Coin has been issued by the Perth Mint of Australia that gives collectors and investors who missed the original strike a second chance. The 2012 Dragon Privy Kookaburra Silver Bullion Coin is available now, while the limited mintage lasts.
This new Kookaburra coin features the same basic designs as found on the original strike, however, the Perth Mint has added a special dragon privy mark in recognition of the 2012 Year of the Dragon. This privy mark is a miniature portrayal of the dragon design featured on this year's Australian Lunar Gold Bullion Coins.
Anticipating increased interest in the Kookaburra Silver Bullion Coin series, the Perth raised the mintage for the original 2012 one ounce version to 500,000. Previous annual releases had a mintage cap of just 300,000.
The one ounce 2012 Kookaburra coin went on sale beginning September 1, 2011. Despite the increased mintage, the coin sold out in relatively short order. (A fact further supported by the Perth announcing a one million mintage for the 2013 version to be issued later this year.)
Australian Kookaburra Coin Designs and Specifications
The kookaburra series of silver bullion coins features annually changing reverse designs. The design chosen for this year's coins shows a kookaburra with its head facing over its left wing while perched on a tree branch and flanked by gum leaves.
The special dragon privy mark is found to the left of the bird. Reverse inscriptions on the coin include "Australian Kookaburra" and "2012 1 oz 999 Silver."
These coins are struck as legal tender of Australia under the Australian Currency Act of 1965 and have a face value of AUS $1 which is indicated on the obverse of the coin. Also shown on the obverse is a portrait of Queen Elizabeth II.
Dragon Privy Kookaburra Silver Bullion Coin Specifications
| | |
| --- | --- |
| Weight | 31.635 grams |
| Composition | 99.9% silver |
| Content | 1 troy ounce |
| Diameter | 40.60 mm |
| Thickness | 4.00 mm |
A maximum mintage for the Kookaburra Silver Bullion Coin with the dragon privy mark has been established at 80,000. The coins are available now for ordering through the Perth Mint's traditional bullion coin distribution network. A limited number will also be available for sale on www.perthmintbullion.com.
See other Perth Mint coin highlights from this site's Australian Coin Guide.
About the Perth Mint
The Perth Mint is the official issuer of the Australian Federal Government's Gold and Silver Bullion Coin Program. It was Australia's third branch of Britain's Royal Mint when it opened in 1899 (the others being the Sydney Mint and the Melbourne Mint, which are both now closed). Ownership of the Perth Mint was transferred to the State Government of Western Australia in 1970 who still operates the facility today.