The Perth Mint of Australia has expanded on its extremely popular series of Koala silver coins with two new strikes, a massive kilo-sized issue and a more diminutive 1/10 ounce coin.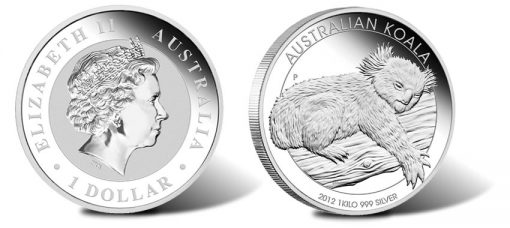 Available now from the Perth Mint in extremely limited quantities is the 2012 Australian Koala 1 Kilo Silver Proof Coin. Also just released is a more affordable 2012 Australian Koala 1/10 oz Silver Coin struck to specimen quality. Both Koala silver coins offer similar imagery but in vastly different sizes, price points and mintages.
2012 Australian Koala 1 Kilo Silver Proof Coin
The 2012 Australian Koala 1 Kilo Silver Proof Coin is struck from one kilo of .999 fine silver. Identical to other 2012-dated koala releases from the Perth Mint, the reverse contains an original design showcasing the koala.
This design depicts the marsupial asleep on a large eucalyptus branch and was completed by Perth Mint artist Aleysha Howarth. Shown on the obverse of the strike is Ian Rank-Broadley's effigy of Queen Elizabeth II.
The Perth Mint indicates that no more than 500 of the Koala 1 Kilo Coins will be struck to proof quality. Each will appear in a black presentation case accompanied by a numbered certificate of authenticity inside an illustrated shipper.
2012 Australian Koala 1/10 Oz Silver Coin
Like the previously mentioned kilo coin, the 1/10 ounce coin is also struck from .999 fine silver. Both the obverse and reverse imagery are also identical to the aforementioned strike with the exception of the surrounding inscriptions which indicate the smaller size and face value of the coin.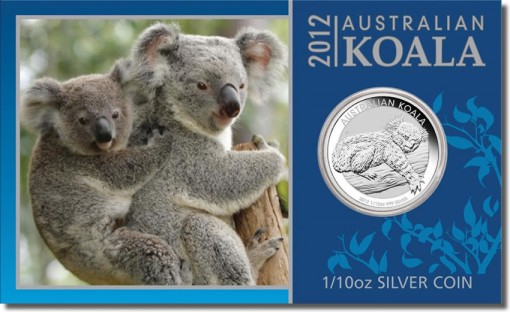 The Koala 1/10 oz Silver Coin comes housed in an illustrated presentation card. These coins are struck on a 'mint-to-order' basis with the final mintage to be determined after the close of production.
Silver Koala Coins – Specifications
| | | |
| --- | --- | --- |
| | 1 Kilo Coin | 1/10 oz. Coin |
| Mintage | 500 | TBD |
| Finish | Proof | Bullion |
| Silver Content (Troy oz) | 32.151 | 0.10 |
| Face Value (AUS) | $30.00 | $0.10 |
| Fineness (% purity) | 99.9 | 99.9 |
| Minimum Gross Weight (g) | 1,001.002 | 3.135 |
| Maximum Diameter (mm) | 100.60 | 20.60 |
| Maximum Thickness | 14.60 | 2.00 |
Both Australian Koala Silver Coins are available for ordering directly from the Perth Mint. The kilo sized coin is offered for AUS $1,879 with the 1/10 oz bullion variety being sold for AUS $14. Prices can change daily depending on the direction of the silver market.
Ad Banner to Perth Mint Website

For more information or to place an order, visit The Perth Mint website at www.perthmint.com.au.
See other Perth Mint coin highlights from this site's Australian Coin Guide.
About the Perth Mint
The Perth Mint is responsible for striking the Australian Federal Government's Gold and Silver Bullion Coin Program as well as some of the most unique numismatic products issued in the world. The facility is owned by the State Government of Western Australia but was originally constructed in 1899 as a branch of the Royal Mint of England.