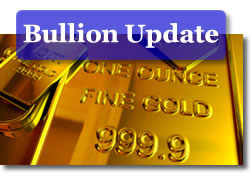 Gold futures prices rose 0.9% Wednesday, recouping a portion of the losses logged in the previous session.
In a rarity of late, gold advanced despite a stronger U.S. dollar which had been driving prices lower. Gains in the yellow metal were attributed to bargain-hunting following Tuesday's more than $20 loss and on safe-haven buying as the European debt crisis churned world stocks.
"This morning's reversal is indicative that people are starting to come to grips with the fact that there isn't any fast and easy solution in Europe. And if things start to really get out of hand in Spain and Italy, that means gold can catch a bid," Reuters quoted James Dailey, portfolio manager of TEAM Financial Asset Management.
Gold prices for August delivery, the new most active contract, climbed $14.70 to settle at $1,565.70 an ounce on the Comex in New York. Prices moved from a low of $1,532.10 to a high of $1,570.90, an intraday range of nearly $39.
"Euro instability and rapid changes in exchange rates can make precious metals seem more attractive despite a higher dollar trend," MarketWatch quoted Robert Laura, president of Synergos Financial Group in Brighton, Mich.

"There are some obvious risk in a gold trade with major economic data out this week, but today could be a bullish sign for gold as it bucks trend."
In other futures precious metals settlements Wednesday:
Silver prices for July delivery gained 19.2 cents, or 0.7%, to $27.983 an ounce. The white metal hit a low of $27.355 and a high of $28.145.

Platinum prices for July delivery declined $26.90, or 1.9%, to $1,401.20 an ounce, ranging from $1,387.10 to $1,431.40.

Palladium prices for September edged up 45.0 cents, or 0.1%, to $606.50 an ounce, trading between $591.00 and $609.45.
London Precious Metal
London precious metals were all lower Wednesday. When comparing the most recent London PM fixings:
Gold declined $39.50, or 2.5%, to $1,540.00 an ounce,
Silver fell 57.0 cents, or 2.0%, to $27.68 an ounce,
Platinum lost $25.00, or 1.7%, to $1,410.00 an ounce, and
Palladium stepped back $7.00, or 1.2%, to $601.00 an ounce
U.S. Mint Bullion Sales
Sales of U.S. Mint bullion coins were unchanged Wednesday as of 4:06 PM ET. The following are the daily, May and year-to-date bullion coin sales totals as provided by the U.S. Mint.
U.S. Mint American Eagle and Buffalo Bullion Coin Sales
Daily Gains
May Gains
YTD 2012
American Eagle Gold Coins (1 oz.)
0
46,000
227,000
American Eagle Gold Coins (1/2 oz.)
0
3,000
54,000
American Eagle Gold Coins (1/4 oz.)
0
4,000
46,000
American Eagle Gold Coins (1/10 oz.)
0
15,000
150,000
American Gold Buffalo Coin (1 oz.)
0
8,500
64,000
American Eagle Silver Coins
0
2,352,500
14,409,000
Sales of Bullion America the Beautiful 5 Oz. Silver Coins
Prior Weekly
Weekly Gains
All-Time Total
2011 Olympic National Park 5 oz. Silver Coins
0
100
85,200
2011 Vicksburg National Military Park 5 oz. Silver Coins
0
100
38,400
2011 Chickasaw Park 5 oz. Silver Coins
0
0
28,900
TOTAL
0
200
152,500
All bullion coin sales in the above tables are in number of coins, not in the amount of ounces sold. The last time the U.S. Mint updated the 5 ounce silver coin totals was Tuesday, May 29. Starting sales of the first 2012-dated issue should be available in early June.