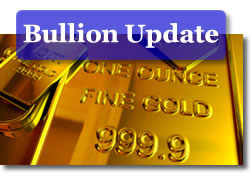 Gold prices declined the most in three sessions Wednesday, registering a combined drop of $43.30, or 2.7%, since Friday when the yellow metal was on a two-day rallying streak which totaled to $55.30.
Losses in gold and other commodities were attributed to strength in the U.S. dollar as concerns grow over Greece possibly leaving the European Union.
"The instability within the euro zone resulted in a selloff across risk assets, pushing the U.S. dollar higher and commodity prices lower," Bloomberg quoted Luke Mathews, an analyst at Commonwealth Bank of Australia (CBA).
Gold prices for June delivery fell $28.20, or 1.8%, to $1,548.40 an ounce on the Comex in New York. Prices ranged from an intraday low of $1,532.80 to a high of $1,568.50.
"Gold is acting more as a risky asset, and everything is tumbling this morning ahead of this (European summit), where nothing good is really expected," Societe Generale analyst Robin Bhar said, according to Reuters.

"It is not inconceivable that the meeting could surprise, but going on track records, it's very doubtful."
Silver, Platinum and Palladium Futures Prices
In other precious metals closings on Wednesday:
Silver prices for July delivery lost 66.0 cents, or 2.3%, to settle at $27.519 an ounce. Silver bracketed prices of $27.080 and $28.170.

Platinum prices for July delivery declined $44.30, or 3.0%, to $1,414.10 an ounce, trading between $1,409.10 and $1,448.90.

While palladium bucked the trend of other precious metals in the previous session by gaining, that was not the case on Wednesday as it was the worst performing major metal. Palladium prices for June delivery plunged $24.45, or 4.0%, to $591.10 an ounce. Palladium ranged between $588.20 and $613.00.
London Precious Metal
Precious metals declined in London as well, although losses were generally smaller than metal futures in New York. When comparing the most recent London PM fixings:
Gold prices shed $33.50, or 2.1%, at $1,549.00 an ounce,
Silver fell 31.0 cents, or 1.1%, to $27.76 an ounce,
Platinum lost $28.00, or 1.9%, at $1,430.00 an ounce, and
Palladium dipped $5.00, or 0.8%, to $607.00 an ounce
U.S. Mint Bullion Coins
Demand has improved this week for smaller American Eagle gold coins, U.S. Mint data shows. Sales of the one-half ounce and one-quarter ounce Eagles advanced for the first time this month on Monday, and they climbed yet again on Wednesday. These two smaller Eagles have recorded the best monthly total since the 2012-dated issues were released in January.
The following are the available daily, May and year-to-date bullion coin sales totals as reported by the U.S. Mint.
U.S. Mint American Eagle and Buffalo Bullion Coin Sales
Daily Gains
May Gains
YTD 2012
American Eagle Gold Coins (1 oz.)
1,000
40,000
221,000
American Eagle Gold Coins (1/2 oz.)
1,000
3,000
54,000
American Eagle Gold Coins (1/4 oz.)
2,000
4,000
46,000
American Eagle Gold Coins (1/10 oz.)
0
15,000
150,000
American Gold Buffalo Coin (1 oz.)
0
7,000
62,500
American Eagle Silver Bullion Coins
100,000
2,117,500
13,776,500
America the Beautiful 5 Oz. Silver Bullion Coin Sales
Prior Weekly
Weekly Gains
All-Time Total
Olympic National Park 5 oz. Silver Coins
0
0
85,100
Vicksburg National Military Park 5 oz. Silver Coins
0
0
38,300
Chickasaw Park 5 oz. Silver Coins
0
0
28,900
TOTAL
0
0
152,300
All bullion coin sales in the above tables are in number of coins, not in the amount of ounces sold. The U.S. Mint last updated five ounce bullion silver coins sold on Monday, April 9, indicating none have sold since.