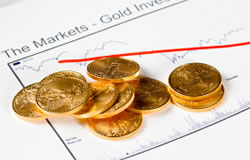 Another day of quiet and cautious trading ahead of Fed Chairman Ben Bernanke's much-awaited speech pulled gold prices lower Thursday for a third straight session.
Gold prices for December delivery settled down $5.90, or 0.4%, to $1,657.10 an ounce on the Comex in New York. Gold ranged from an intraday low of $1,652.30 to a high of $1,666.70.
Caution is in the wind with Bernanke scheduled to speak Friday before central bankers in Jackson Hole, Wyoming.
"I'm feeling rather cautious going into tomorrow's Jackson Hole speech," MarketWatch quoted Jeff Wright, a managing director at Global Hunter Securities.

"Gold has gone up about $50 in past 30 days; we see a bias to the downside unless there is a clear signal and movement for QE3."
Gold prices have declined 0.9%, or $15.80, this week after jumping 3.3% last week.
In other New York precious metals prices:
Silver prices for December delivery declined 39.1 cents, or 1.3%, to settle at $30.446 an ounce. Silver traded between $30.265 and $30.970.

Platinum for October delivery closed at $1,503.70 an ounce, falling $16.60 or 1.1%. The PGM metal ranged from $1,501.70 to $1,528.80.

Palladium for December delivery plunged $20.10, or 3.2%, to $616.40 an ounce, moving between $613.50 and $636.85.
London Precious Metals
London precious metals were mixed to unchanged. In contrasting London PM fixings:
Gold prices climbed 50 cents to $1,660.50 an ounce,
Silver lost 7.0 cents, or 0.2%, to $30.66 an ounce,
Platinum rose $4.00, or 0.3%, to $1,522.00 an ounce, and
Palladium was unchanged at $634.00 an ounce
U.S. Mint Bullion Coins
Sales levels for U.S. Mint bullion coins rose modestly Thursday after surging during the previous day. In total, 1,000 ounces of bullion gold coins were ordered while 56,000 ounces of bullion silver coins sold.
The following grid offers the most recent daily, August and year-to-date bullion figures as published by the United States Mint.
Sales of US Mint American Eagle and Buffalo Bullion Coins
Daily Gains
August Gains
YTD 2012
$50 American Eagle Gold Coins
0
29,000
342,500
$25 American Eagle Gold Coins
1,000
3,000
59,000
$10 American Eagle Gold Coins
2,000
4,000
58,000
$5 American Eagle Gold Coins
0
20,000
210,000
$50 American Buffalo Gold Coins
0
9,000
88,000
American Silver Eagle Coins
55,000
2,575,000
22,245,000
Sales of America the Beautiful 5 Oz. Silver Bullion Coins
Daily Gains
August Gains
All-Time Total
2012 El Yunque National Forest 5 oz. Silver Coins
200
3,500
16,700
2012 Chaco Culture National Historical Park 5 oz. Silver Coins
0
9,600
17,000
2012 Acadia National Park 5 oz. Silver Coins
0
5,200
15,100
2011 Olympic National Park 5 oz. Silver Coins
0
400
85,900
2011 Vicksburg National Military Park 5 oz. Silver Coins
0
400
39,500
2011 Chickasaw Park 5 oz. Silver Coins
0
300
29,700
TOTAL
0
19,200
203,700
All sales figures above are in the number of coins sold, not the amount of ounces sold.