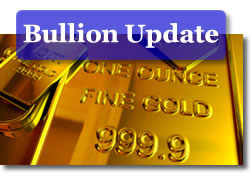 Gold closed to its lowest level this year and under $1,600 an ounce on Wednesday, extending a streak of losses to three days in which $51, or 3.1%, of its value disappeared. European Union debt woes continued to propel the U.S. dollar while pressuring what was once considered a main safe-haven bet, gold.
"Capital is going to where it's safe, and it hasn't been safe in gold," Frank Lesh, a trader at FuturePath Trading in Chicago, said in a telephone interview that was recounted on Bloomberg. "Currency markets tend to rule in commodities, and right now the dollar is king."
Gold prices for June delivery declined $10.30, or 0.6%, to $1,594.20 an ounce on the Comex in New York, moving through an intraday range of $1,578.50 to $1,607.00. The settlement price was the lowest since gold's closing of $1,566.80 an ounce on the final trading day of last year, December 30. The yellow metal now remains higher by a much more modest 1.7% in 2012.
"The additional problem for gold was the fact that — to the extent there were a sufficient amount of news items to worry about out there (Greece, France, the EU at large) — bullion failed to act like the safe-haven asset that it is supposed to be," noted Jon Nadler, Senior Metals Analyst at Kitco Metals Inc.

"Once again, as was the case in 2008, when pushing came to shoving, the shoving was taking place into the direction of the greenback," Nadler added.
In other metal futures prices on Wednesday:
Silver prices for July delivery lost 21.8 cents, or 0.7%, to $29.241 an ounce, moving between $28.615 and $29.500. The settlement price was the lowest for silver since the start of the trading year when it jumped $1.66 to close at $29.57 an ounce on January 3. The white metal is 4.8% higher in 2012, thanks in large part to that single day increase.

Platinum prices for July delivery fell $9.10, or 0.6%, to $1,499.20 an ounce, ranging from $1,490.70 to $1,513.10.

Palladium prices for June delivery declined $9.20, or 1.5%, to $613.65 an ounce, trading between $609.00 and $624.65.
London Precious Metal
Precious metals losses were more severe in London than in New York. When comparing the most recent London PM fixings:
Gold stepped back $20.00, or 1.2%, to $1,582.50 an ounce,
Silver lost 81.0 cents, or 2.7%, at $28.77 an ounce,
Platinum retreated $15.00, or 1.0%, to $1,499.00 an ounce, and
Palladium declined $18.00, or 2.8%, at $615.00 an ounce
U.S. Mint Bullion Coins
Bullion American Gold Eagle Coins maintained their newfound rallying spirit Wednesday, advancing each day of this week and in four of the last five business days. Sales of the 22-karat gold bullion coins climbed 4,500 for the day, driving their May total to 30,500 for an already 52.5% increase over the previous month.
Bullion American Silver Eagle Coins entered the sales board for the second time this week, rising 25,000. Yet, their monthly total so far is a tepid 360,000 — an amount not completely uncommon for a single day's gain just several months back. While most of the month remains, the current Silver Eagle sales pace is tracking as the slowest since February 2008.
The following are the available daily, May and year-to-date bullion coin sales totals as reported by the U.S. Mint.
U.S. Mint American Eagle and Buffalo Bullion Coin Sales
Daily Gains
May Gains
YTD 2012
American Gold Eagle Coin (1 oz.)
4,500
30,500
211,500
American Gold Eagle Coin (1/2 oz.)
0
0
51,000
American Gold Eagle Coin (1/4 oz.)
0
0
42,000
American Gold Eagle Coin (1/10 oz.)
0
0
135,000
American Gold Buffalo Coin (1 oz.)
0
1,000
56,500
American Silver Eagle Coin
25,000
360,000
12,019,000
America the Beautiful 5 Oz. Silver Bullion Coin Sales
Prior Weekly
Weekly Gains
All-Time Total
Olympic National Park 5 oz. Silver Coins
0
0
85,100
Vicksburg National Military Park 5 oz. Silver Coins
0
0
38,300
Chickasaw Park 5 oz. Silver Coins
0
0
28,900
TOTAL
0
0
152,300
All coin sales figures in the above tables are in number of coins, not in the amount of ounces sold. The U.S. Mint last updated five ounce bullion silver coins sold on Monday, April 9.