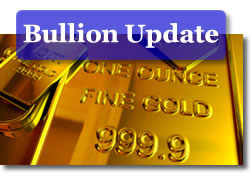 Gold prices declined Wednesday, marking a third straight session of losses that have accumulated to nearly $11.
Gold retreated as the U.S. dollar strengthened despite a report on private-sector U.S. jobs which fell short of expectations. ADP said businesses added only 119,000 jobs in April — the smallest gain in seven months and much lower than the revised total of 201,000 in March.
"ADP private sector employment (data) in the U.S. (is) usually seen as a good proxy to non-farm payrolls on Friday," VTB Capital analyst Andrey Kryuchenkov said, according to Reuters. A weak payrolls report could reignite talk about more monetary stimulus, weighing on the dollar, he said.
Gold prices for June delivery settled down $8.40, or 0.5%, to $1,654.00 an ounce on the Comex in New York. Prices during the day moved between a low of $1,646.00 and a high of $1,663.90.
"The market is clearly worried," Frank McGhee, the head dealer at Integrated Brokerage Services LLC in Chicago, said in a telephone interview relayed on Bloomberg. "The physical demand has also been very weak."
In other precious metals:
Silver prices for July delivery declined 28.5 cents, or 0.9%, to $30.645 an ounce. The white metal touched an intraday low of $30.41 and reached a high of $31.06.

Platinum prices for July delivery retreated $7.90, or 0.5%, to $1,564.40 an ounce, trading between $1,559.30 and $1,576.90.

Palladium prices for June delivery fell $11.60, or 1.7%, to $669.45 an ounce, trading between $667.85 and $680.35.
London Precious Metal
After several days of mixed results, precious metals in London declined across the board on Wednesday. When comparing the most recent London PM fixings:
Gold lost $16.00, or 1.0%, to $1,648.00 an ounce,
Silver shed 26.0 cents, or 0.8%, to $30.52 an ounce,
Platinum declined $4.00, or 0.3%, to $1,562.00 an ounce, and
Palladium stepped back $8.00, or 1.2%, to $673.00 an ounce
U.S. Mint Bullion Coins
Sales of U.S. Mint bullion coins were unchanged Wednesday as of 3:56 PM ET. The following are the available daily, May and year-to-date bullion coin sales totals as reported by the U.S. Mint.
U.S. Mint American Eagle and Buffalo Bullion Coin Sales
Daily Gains
May Gains
YTD 2012
American Eagle Gold Coins (1 oz.)
0
10,000
191,000
American Eagle Gold Coins (1/2 oz.)
0
0
51,000
American Eagle Gold Coins (1/4 oz.)
0
0
42,000
American Eagle Gold Coins (1/10 oz.)
0
0
135,000
American Gold Buffalo Coin (1 oz.)
0
0
55,500
American Silver Eagle Coin
0
0
11,659,000
America the Beautiful 5 Oz. Silver Bullion Coin Sales
Prior Weekly
Weekly Gains
All-Time Total
Olympic National Park 5 oz. Silver Coins
0
0
85,100
Vicksburg National Military Park 5 oz. Silver Coins
0
0
38,300
Chickasaw Park 5 oz. Silver Coins
0
0
28,900
TOTAL
0
0
152,300
All coin sales in the above tables are in number of coins, not in the amount of ounces sold. The U.S. Mint last updated five ounce bullion silver coins sold on Monday, April 9.