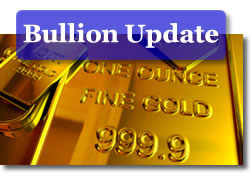 Gold prices retreated Monday, adding to what turned into a modest 0.5% loss for April but yet an enviable level as compared to the monthly losses of 4.5% for silver and 4.4% for platinum. All precious metals looked up to palladium with its furious 4.3% rally in April.
For comparative purposes, last month was across the board bearish with losses of 2.3% for gold, 6.2% for silver, 2.9% for platinum and 7.7% for palladium.
On the final trading day of April, gold prices for June delivery dipped 60.0 cents, or less than 0.1%, to $1,664.20 an ounce on the Comex in New York. Gold ranged from an intraday low of $1,645.10 to a high of $1,666.50. Gold's April loss was trimmed by its 1.3% gain last week.
"Gold posted a bullish outside week last week, adding further fuel to our belief that a base is being formed for the next rally higher," Reuters quoted Tom Fitzpatrick, a strategist at Citigroup's technical research unit CitiFX.
Returning to the other metals and their settlement prices on Monday:
Silver prices for July delivery declined 39.5 cents, or 1.3%, to close at $31.016 an ounce. Silver traded between $30.600 and $31.445.

Platinum prices for July delivery lost $3.80, or 0.2%, to end at $1,571.90 an ounce, moving from $1,566.30 to $1,578.80.

Palladium was not only the outlier for the month, but for the day as well. Palladium prices for June delivery added 85.0 cents, or 0.1%, to settle at $682.35 an ounce, ranging from $675.60 to $685.00.
London Precious Metal
Precious metals in London were mixed on Monday. When comparing the most recent London PM fixings:
Gold declined $12.25, or 0.7%, to $1,651.25 an ounce,
Silver advanced 6.0 cents, or 0.2%, to $31.20 an ounce,
Platinum fell $3.00, or 0.2%, to $1,570.00 an ounce, and
Palladium added $2.00, or 0.3%, to $679.00 an ounce
Like metals futures in New York, palladium was the lone gainer for April and at the same 4.3%. Monthly losses included 0.7% for gold, 3.8% for silver and 4.3% for platinum.
U.S. Mint Bullion Coins
Sales of the bullion American Silver Eagle jumped 200,000 on Monday. That lifted its monthly total to 1.52 million and just above what now remains the weakest month of the year, February at 1.49 million. Without Monday's increase, the Silver Eagle was on track to register its slowest month since July 2008.
The United States reported no other bullion coin sales on Monday. The following are the available daily, April and year-to-date bullion coin sales totals as published by the U.S. Mint. While the figures for April are not likely to change, the bureau has not officially closed the month out. That is expected to occur on Tuesday.
U.S. Mint American Eagle and Buffalo Bullion Coin Sales
Daily Gains
April Gains
YTD 2012
American Gold Eagle Coins (1 oz.)
0
19,000
181,000
American Gold Eagle Coins (1/2 oz.)
0
0
51,000
American Gold Eagle Coins (1/4 oz.)
0
2,000
42,000
American Gold Eagle Coins (1/10 oz.)
0
5,000
135,000
American Gold Buffalo Coin (1 oz.)
0
9,000
55,500
American Silver Eagle Coin
200,000
1,520,000
11,659,000
America the Beautiful 5 Oz. Silver Bullion Coin Sales
Prior Weekly
Weekly Gains
All-Time Total
Olympic National Park 5 oz. Silver Coins
0
0
85,100
Vicksburg National Military Park 5 oz. Silver Coins
0
0
38,300
Chickasaw Park 5 oz. Silver Coins
0
0
28,900
TOTAL
0
0
152,300
All coin sales in the above tables are in number of coins, not in the amount of ounces sold. The U.S. Mint last updated five ounce bullion silver coins sold on Monday, April 9.