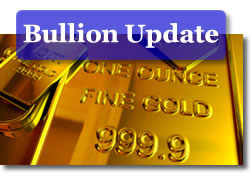 Gold rallied 1.2% Thursday, posting a gain in four of the last five sessions. The yellow metal was off 40 cents on Wednesday which snapped a three-session winning streak. Gold was supported on the day by a weaker U.S. dollar.
Gold prices for June delivery rose $20.30 to settle at $1,680.60 an ounce on the Comex in New York. The metal moved between an intraday low of $1,651.00 and a high of $1,681.30.
"It's good that gold has bounced back up. I don't expect sustained losses, but neither do I expect sustained gains, because tomorrow you have Chinese GDP data but you also have U.S. inflation and that is going to be closely watched," VTB Capital analyst Andrey Kryuchenkov said, according to Reuters.
Silver prices for May delivery shot up $1.004, or 3.2%, to $32.525 an ounce, trading between $31.42 and $32.58.
Platinum prices for July delivery tacked on $21.70, or 1.4%, to $1,606.00 an ounce, ranging from $1,582.50 to $1,608.70.
Palladium prices for June delivery settled up $16.50, or 2.6%, to $653.10 an ounce, trading between $635.95 and $655.90.
London Precious Metals
With the exception of 0.6% gains for both gold and palladium, London precious metals were lower Thursday. In comparing the most recent London PM fixings:
Gold added $10.50 to $1,668.50 an ounce,
Silver prices declined 23.0 cents, or 0.7%, to $31.47 an ounce,
Platinum fell $5.00, or 0.3%, to $1,585.00 an ounce, and
Palladium gained $4.00 to $641.00 an ounce
U.S. Mint Bullion Coins
Sales gains in U.S. Mint bullion coins were limited to Silver Eagles. While logging healthy gains of 240,000 on Monday and 177,000 on Wednesday, the 99.9% fine silver bullion coins inched up a rather modest 43,000 on Thursday. The Silver Eagles are poised to reach 11 million in sales this year, now lacking just 81,000 to attain the milestone.
The following are the available daily, April and year-to-date bullion coin sales totals as provided by the U.S. Mint.
Sales of U.S. Mint American Eagle and Buffalo Bullion Coins
Daily Gains
April Gains
YTD 2012
American Gold Eagles (1 oz.)
0
10,000
172,000
American Gold Eagles (1/2 oz.)
0
0
51,000
American Gold Eagles (1/4 oz.)
0
0
40,000
American Gold Eagles (1/10 oz.)
0
5,000
135,000
American Gold Buffalo Coin (1 oz.)
0
7,000
53,500
American Silver Eagles
43,000
780,000
10,919,000
Sales of America the Beautiful 5 Oz. Bullion Silver Coins
Prior Weekly
Weekly Gains
All-Time Total
Olympic National Park 5 oz. Silver Coins
0
0
85,100
Vicksburg National Military Park 5 oz. Silver Coins
0
0
38,300
Chickasaw Park 5 oz. Silver Coins
0
200
28,900
TOTAL
0
200
152,300
All bullion coin sales in the above tables are in number of coins, not in the amount of ounces sold. The U.S. Mint last updated five ounce bullion silver coins sold on Monday, April 9.